FROM

"

BUSH

BUNNY

BRENDA

"

DATE

:

NOVEMBER

1, 2014
MANGO
TREE
CHURCH
RECEIVES
AWANA
GAME
COUR

This morn­ing at 4:30a.m. (sun­rise), I drove our 2 man "paint­ing team" to the cement Bas­ket­ball court at the Man­go Tree Church.
Why 4:30a.m.? If you've ever been in Africa at the peak of the hot and dry sea­son, you won't need to ask. The day­time heat is worse than Texas in August!
Built sev­er­al years ago, the Man­go Tree Church boasts the only oth­er cement­ed area we have that can host REGIONAL game com­pe­ti­tions for the children.
Pas­tor Bilali (BEE-lah-lee) and his wife trans­ferred to Mavala yes­ter­day, and will now live at the Man­go Tree Church mis­sion base with Pas­tor Anto­nio and his family.
Their objec­tive: To man­age the AWANA pro­gram for 4 vil­lages in that area where church­es do not exist, and to assist Pas­tor Anto­nio with the Sun­day School pro­gram at the Man­go Tree Church.
With the AWANA games pat­tern paint­ed in 4 bright col­ors on the court, we plan com­pe­ti­tions with AWANA church teams that are now being orga­nized by the 2 Pastor/Awana lead­ers from the "sis­ter church­es" of the Man­go Tree Church.
One thing we are good at, is flex­ing to use the mate­ri­als at hand. The vil­lage lead­ers draw the pat­tern in the dirt when they play in the vil­lages, and most use ash from the local fires to help the pat­tern show up bet­ter. Con­crete courts are nice, but expen­sive. We are blessed to have TWO such courts (Bala­ma and Mavala) that can be used for major competitions.
It has been my "dream" to be able to spend more time with the CHILDREN, EVANGILISM, AND DISCIPLESHIP.
As the "Coor­di­na­tor" for the entire Mozam­bique pro­gram, I've been tied up 5 days a week with man­age­ment, con­struc­tion, and staff/pastoral train­ing for the last 15 years. Now that major con­struc­tion is FINISHED, watch this bun­ny HOP OUT AND HAVE SOME FUN!
Our BBC and Church Pas­tors are now reach­ing the lost in TWENTY FIVE VILLAGES a week!
BBC reports from this week: 1,050 chil­dren heard the sto­ry of Cre­ation in 15 vil­lages. (Atten­dance ranges from 35 to 105 children/village). The Church Pas­tors in the 9 major church­es across the dis­trict record­ed from 100 to 240 chil­dren last Sat­ur­day EACH SESSION.
Larg­er church­es are hold­ing 2 ses­sions on Sat­ur­day in the vil­lages of 5,000+ pop­u­la­tion, due to the great num­ber of chil­dren that want to attend.
Church Teams atten­dance: 1,140 chil­dren reached with "HOW GOD MADE THE WORLD AND MAN IN 6 DAYS" last Sat­ur­day. THIS PROGRAM WORKS and will bring many chil­dren to Christ in a very short time frame.
CLOTHING

2,500+

ORPHANS

—

NOT

AN

EASY

TASK

ON

PEDAL

SEWING

MACHINES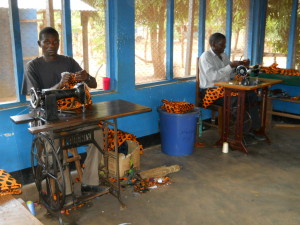 I want to thank all of you who give so that we can buy mate­r­i­al and have shirts/shorts or blouses/skirts made for ALL THE ORPHANS in our pro­gram. My thanks also goes out to Ate­mane and Luis (the 2 Chris­t­ian men who ped­al away on man­u­al sewing machines for 8 hours a day to make these clothes.
Why Ped­al machines? Elec­tric­i­ty is now in some parts of Bala­ma town, but it is not always reli­able. Elec­tric machines would sit more than they could be used. At least with "man­u­al" machines, the work can con­tin­ue no mat­ter if elec­tric­i­ty exists or not.
UPDATE
ON
PASTOR
NAMARO
FROM
KPWEETO
VILLAGE
While prepar­ing his field for plant­i­ng, Pas­tor Namaro stepped on a thin 6 inch stump of a "can­na plant" which is a type of sorghum. This is like push­ing a piece of bam­boo up the inside of your foot. It splin­ters as it slides inside your body, mak­ing this punc­ture wound very hard to clean. After 3 oper­a­tions to clean out splin­ters inside his foot and leg, and 8 days of Peni­cillin injec­tions, he will hope­ful­ly be able to go home on Mon­day Nov. 3rd.
Thank you for your prayers for his fast recov­ery and com­plete recov­ery. The Lord Jesus used the tal­ents of Dr. Fumo at the Bala­ma hos­pi­tal to go beyond the "nor­mal" to help save his leg.
These types of wounds going untreat­ed usu­al­ly lead to the loss of the foot, and pos­si­bly the person's life. Help start­ed with a cell phone call that sent one of our Land Cruis­ers scur­ry­ing into the bush to fetch him 8 days ago.
We PTL for cell phone ser­vice that now cov­ers most of our coun­ty. For only 4 years ago, we still depend­ed on some­one com­ing in by bicy­cle to ask for help.
Bless­ings,
Bush Bun­ny Bren­da Lange Bala­ma Blaz­ers: Katie Pol­cyn Ash­lynn Grabill