From: "Brenda Lange" Subject: Blog, June 26, 2013
NEW

WATER

WELL

IS

A

REAL

GUSHER

!

On Tues­day, our water well drilling team hit an abun­dant water source at 47 meters (141) on our 40 acre prop­er­ty in Balama.
Why the new well in Balama?
1. Our 2 present wells at our base are VERY shal­low and can­not meet the grow­ing needs of our orphans.
2. Over 200 fam­i­lies depend on our church well, as our 40 acre base is the ONLY OPEN LAND in the area, as hous­es have built up all around us.
3. A new well with ABUNDANT WATER was need­ed if we are meet the kid's needs, AND start our new project for "water based food gar­dens" in the com­ing months.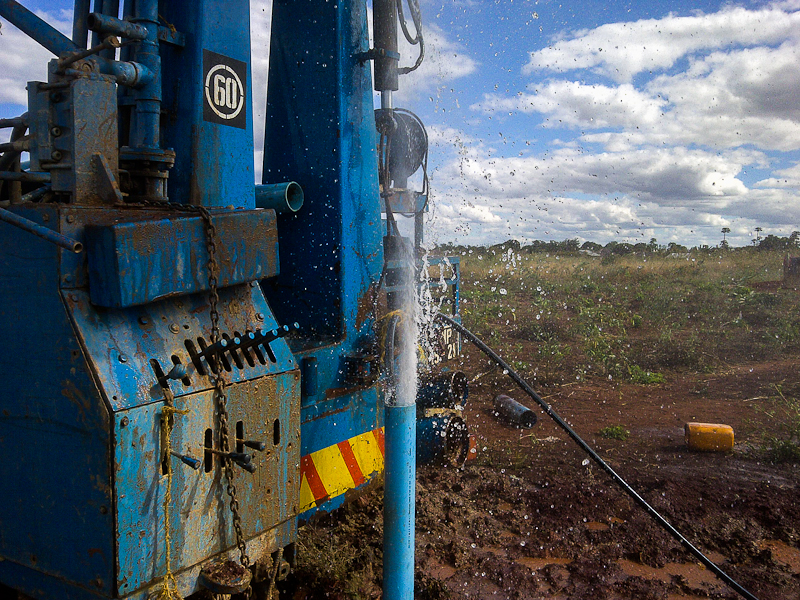 WE ARE MOST GRATEFUL to the FOUR FAMILIES from north east Texas who pooled their resources to pro­vide this water well for us. THANKS hard­ly express­es my JOY as I stood in the spray of this GUSHER as the drillers flushed it out yes­ter­day to see how much water it con­tained. The drillers esti­mate over 2000 CUBIC METERS of water per hour can be pumped from this deep under­ground cavern.
THE
MAN
AT
THE
WELL
Com­ing here to drill this well TRULY BLESSED one of the lead­ers on the drilling team. Last year, I'd wit­nessed to this same drilling team, but it was like talk­ing to brick walls as they are all Hin­dus or Mus­lims. This year, a new man, named Aaron, replaced on of the team lead­ers. Aaron and I talked off and on dur­ing the 3 days of drilling as he speaks good Eng­lish and Por­tuguese. As they were flush­ing the well Tues­day after­noon, Aaron came and got me to show me the won­der­ful clean water shoot­ing up to 20 feet out of the well! It is a sight to see, just like the old GUSHERS you'd see when they first struck oil in Texas. It was FUN to stand in the cool spray being blown by the wind, and watch that tow­er of clear water bless the crops.
As I left, I sensed the Holy Spir­it say­ing: "Go fetch some Por­tuguese tracts and give them to Aaron". I thought "OK, but they reject­ed them last year". But I've learned to "hear and obey that small still voice", so I quick­ly grabbed 4 "com­ic book" tracts that tells all about Jesus and why God sent his Son to earth. I thought that the pic­tures might catch their atten­tion enough to get them to read the sto­ry. I took the tracts straight to Aaron and he lit up like a LIGHT BULB! He said: "I'M A CHRISTIAN!" and so appre­ci­ate this infor­ma­tion! He was so excit­ed that his eyes lit up! It was won­der­ful to see. Aaron then told me he will glad­ly read and share this infor­ma­tion with his fel­low work­ers on the truck. Then he stat­ed that he has been pray­ing for an ENGLISH BIBLE. "Do you have one?"
I told him I only had a pock­et ver­sion (from Gideons), so I went back to the house to fetch it. The box of Eng­lish Bibles is rarely need­ed here, so these Bibles were in a box 8 FEET up on the top shelf in my store­room, and I'm not quite tall enough to reach it even with a step lad­der. J But I man­aged to get the box open and stretched to my full height, reach­ing in blind­ly to grab a small pock­et Bible. MY HAND TOUCHED A FULL SIZE BOOK, which I didn't expect! I pulled the book out and it was a com­plete NIV BIBLE IN ENGLISH! I thought WOW, I guess God plans to use ME to answer this man's prayers, as I had no idea how this Bible got into this box. I gave the Bible to Aaron and he jumped for JOY! We trad­ed phone num­bers, and I plan to keep in touch with him, call­ing him to encour­age him, as he is always on the road with the drilling team (and the only Chris­t­ian on this truck).
That Bible and those tracts will trav­el with this team ALL OVER North­ern Mozam­bique until Decem­ber this year, when they have to stop for the rainy sea­son. After they left, I felt in my spir­it that God was telling me we had just equipped a new Evan­ge­list for Him. With many lone­ly nights ahead of them, I know those com­ic tracts will be ready over and over. Our prayer is that many of these work­ers PLUS those whom Aaron meets on the road, will come to Christ. Aaron is a real­ly nice man, and a nat­ur­al talk­er, so I KNOW God will use his "gift of gab" to reach the lost.
Just as the Samar­i­tan woman came to tru­ly know Jesus at a water well, Aaron had his prayer answered at our well. Now he has all he needs to preach God's Word to the mul­ti­tudes "just as the Samar­i­tan woman did after meet­ing Jesus!" Jesus is tru­ly THE LIVING WATER that wash­es our sins away.
I'm so, so grate­ful that Jesus loves us so much and that He answers our prayers, no mat­ter how small.
BLESSINGS, LOVE, AND HUGS, BUSH BUNNY BRENDA