BUSH

BUNNY

BRENDA

BLOG

,

JUNE

21, 2013
HAPPY

BIRTHDAY

TO

LINDA

STANLEY

!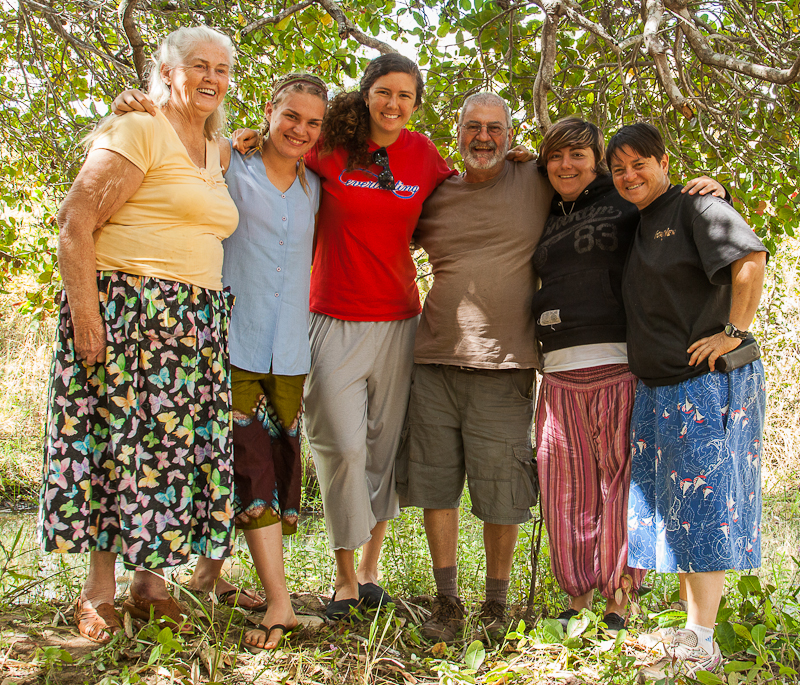 Lin­da Stan­ley, Danielle Van Zyle, Emma Clif­ford, Eric Dry, Melis­sa Olms­dahl, and Bush Bun­ny Bren­da Lange
We held Linda's 76th birth­day today at our lit­tle bush camp we call EDEN. It's our lit­tle hide­away only a 10 minute dri­ve from our base, but since the locals don't go there, we can have a great par­ty with­out inter­rup­tion. A few cows passed by, but they weren't inter­est­ed in us. The menu was chick­en sal­ad sand­wich­es with fried pota­to wedges. I took the Ket­sup (Toma­to Sauce) as fries just aren't the same with­out it! TONIGHT at sup­per we have Linda's favourite cake: our ver­sion of the Pineap­ple UPSIDE DOWN cake.
THREE

SETS

OF

TWINS

BORN

TO

GOAT

FAMILY

TODAY

!

This morn­ing, Danielle and I went out to deworm 2 Mom­my goats who had babies yes­ter­day (1 set of twins and 1 sin­gle birth). Just as I got home from Linda's pic­nic, one of my goat man­agers, Car­l­i­tos, raced up on his motor­bike to tell me about the mul­ti­ple births cause his phone bat­tery was dead. Danielle, Emma, and Melis­sa were gone to lan­guage class­es, so Car­l­i­tos and I drove out to han­dle the deworm­ing and check the babies. Car­l­i­tos knew I was to leave at 5a.m. on Sat­ur­day for Pem­ba and wouldn't return till ear­ly Sun­day morn­ing. Deworm­ing the goats with­in the 1st day after giv­ing birth is VERY impor­tant, since any stom­ach worms present are imme­di­ate­ly trig­gered to pro­duce up to 5,000 worm eggs A DAY due to the hor­mones released in the birth process.

So at the moment we have NINE strong baby goats (3 females and 6 males). The 6 new­bies were BAAAing their heads off when we left, look­ing for that won­der­ful drink they call the "Udder Unco­la"! That's a farmer's joke for mommy's milk, my friends!
FIRST
GOVERNMENT
INSPECTORS
SURPRISED
US
ON
THURSDAY
On Wed. a "lit­tle birdy" told us to expect com­pa­ny on Thurs­day. We held a quick clean up, as kids will be kids and the rooms are not always mil­i­tary clean and neat. The Bala­ma Admin­is­tra­tor (a woman), came at 9a.m. Thurs­day with 4 cars full of her fol­low­ers. Togeth­er we walked the vil­lage in order to vis­it our Girl's and Boy's homes that we built last year. She'd nev­er seen them and dear­ly loved the ROCKET STOVES the women were cook­ing on. She also vis­it­ed our orphan's home that is under con­struc­tion for lit­tle boys and girls under 11 years of age. We real­ly appre­ci­ate our "lit­tle birdy" friends and are very grate­ful for the favour we have with the local gov­ern­ment. Dur­ing our walk, the Admin­is­tra­tor asked me to report to her office at 2pm that after­noon. Seems the bas­ket­ball court at the local high school needs a face lift and new goals. We've been asked to "make it hap­pen", so Mon­day, off we go to start dig­ging holes for the new cement goal posts. We'll also be haul­ing in 420 sacks of RICE straight from the fields on Mon­day. Noth­ing like a busy day to keep one out of trouble.
OFF
TO
PEMBA
IN
THE
MORNING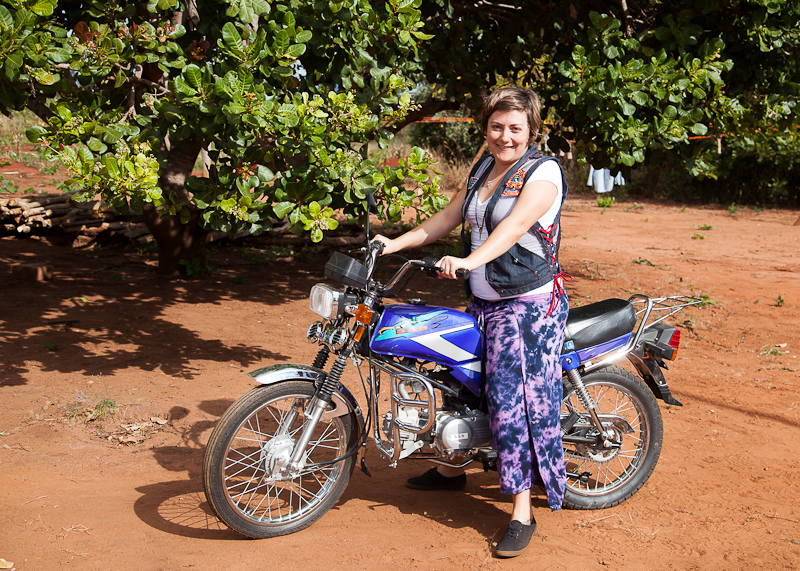 MELISSA

,

SITTING

PRETTY

,

ON

OUR

BEAUTIFUL

NEW

50CC

MOTORBIKE

.

On Sat­ur­day, June 22nd, Melis­sa Olms­dahl will fly back to RSA to get her police clear­ance and Res­i­den­cy Visa. She returns to us on July 17th to begin her new "Bik­ing Career" as she brings Christ to the Youth of Mozam­bique. We were blessed last week with a 50 cc motor­bike, that Melis­sa will use to trav­el with Car­l­i­tos Jorge, our trav­el­ing Children's Leader to bring Christ to the 1000's of kids in remote vil­lages. Our heart­felt thanks goes out to those who made this bike possible.

Stayed tuned for more adven­tures next week. Around here, FLEXIBILITY is the name of the game.

REMEMBER: THE SHORTEST DISTANCE BETWEEN A PROBLEM AND A SOLUTION IS: The dis­tance between your knees and floor. The one who KNEELS to the Lord can STAND UP to anything!

LOVE AND HUGS,

BUSH BUNNY BRENDA AND THE BALAMA GANG

ERIC DRY

LINDA STANLEY

EMMA CLIFFORD

DANIELLE VAN ZYL

MELISSA OLMSDAHL