FROM

"

BUSH

BUNNY

BRENDA

"
DATE: Novem­ber 12, 2016
VISITORS
COMING
TO
BALAMA
THIS
WEEK
Two of our USA friends, Dave and Lar­ry, will be arriv­ing this week to teach and take a look at our cur­rent programs.
The whole BAWANA pro­gram came into "being" here because of Dave's vision for our chil­dren in Mozambique.
Dave intro­duced me to Lar­ry, and the vision became a real­i­ty a year later.
Lar­ry began train­ing our Pas­tors and BBC groups over 5 years ago in the BAWANA games tech­nique for child evangelism.
Their labors have pro­duced much fruit (as shown in the next arti­cle below). We are very excit­ed to host them so they can see their vision in action.
Tues­day and Wed. our Pas­tors will be meet­ing with Lar­ry for Bible train­ing. He'll be teach­ing inter­ac­tive ways to reach out with the Gospel to all ages. Thurs­day and Fri­day they will assist in food dis­tri­b­u­tions and at a BAWANA games pro­gram in a remote village.
Ear­ly Sat­ur­day (19th) our Bawana lead­ers will be in at the MANGO TREE CHURCH in Mavala to host the 2nd annu­al BAWANA GAMES COMPETITION between 4 remote villages.
6 a.m. Sun­day, they will do the same in Bala­ma with 4 teams from that area. God's Word along with can­dy, cook­ies, and loads of fun awaits all those who attend the 2 competitions!
Tell you all about it in 2 weeks. There will be NO BLOG next week­end due the above programs.
BAWANA GAMES BRINGING 1000'S TO JESUS!
(all pho­tos in this blog were tak­en by the BBC Motor­bike Team as they min­is­tered today.)
BIBLE LESSONS AT BAWANA GAMES AT MARICE VILLAGE, 354
TUG O WAR at BAWANA GAMES.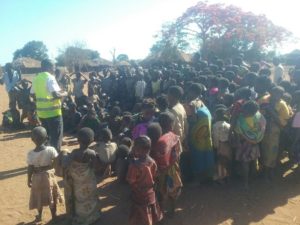 EVANGELISM EXPLOSION are the only words that explain what has hap­pened since April, 2016.
BIBLE LESSONS AT NCUIDE NILLAGE, 413 CHILDRENS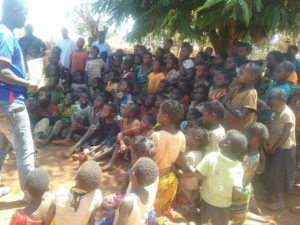 BIBLE LESSONS AT THE BAWANA GAMES AT MARICA VILLAGE, 354 ATTENDED.
In all 3 Dis­tricts we serve, Pas­tors are report­ing great increas­es in the crowds of chil­dren and adults who attend the BAWANA Games each week.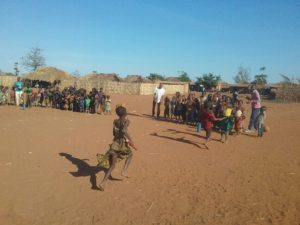 GIRLS COMPETITION AT BAWANA GAMES.
In the last 6 months, the ADULTS IN TWO of the vil­lages where the Motor­bike BBC Teams work have start­ed their own church­es! In the vil­lage of Nacac­ca, the Sun­day School is so large it has to be bro­ken into 5 ses­sions in order to teach the 1,781 chil­dren who attend each week. GOD IS MOVING!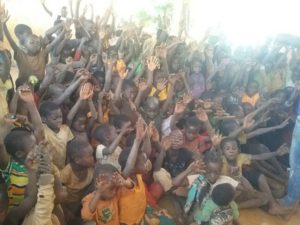 PRAYING KIDS AT BAWANA GAMES.
BELOW ARE THE MIND BOGGLING NUMBERS STRAIGHT FROM THE PASTORS.
MANGO TREE CHURCH (north­ern area): 7 church­es, 11 Bawana games loca­tions. Atten­dance: 148 adults, 1,025 children.
WESTERN BALAMA: 5 church­es, 7 Bawana games loca­tions. Atten­dance: 271 adults, 1,392 children.
SOUTHERN BALAMA: 3 church­es, 4 Bawana games loca­tions. Atten­dance: 59 adults, 770 children.
BALAMA CENTRAL AND EASTERN AREAS: 6 church­es, 9 Bawana games loca­tions. Atten­dance: 207 adults, 1588 children.
BBC, 8 MAN MOTORBIKE TEAM (every Thurs­day to Sunday)
23 loca­tions, teach­ing 9,217 chil­dren weekly
This team has received the gift of a 5th bike and will expand to a 10 man team with a 5 day week by December.
BBC 4 MAN BICYCLE TEAM: 10 loca­tions, teach­ing 650 chil­dren weekly.
NAMUNO DISTRICT: 3 church­es, 70 adults and 125 chil­dren attend­ing. NO Bawana games at this time due to a lack of trained Youth Lead­ers in the area. A plan to resolve this is in the works.
MELUCO DISTRICT: 1 church 35 adults and 50 chil­dren attend­ing. 5 Bawana games loca­tions with 3 man BBC team, reach­ing 395 chil­dren. Team is meet­ing resis­tance in the vil­lages, but the chil­dren are break­ing down the walls. PTL!
WEEKLY TOTAL HEARING GOD'S WORD: 790 ADULTS, AND 15,212 CHILDREN
GOD'S WORD IS GOING FORTH, THANKS TO THE SEED YOU PLANT INTO OUR PASTORS.
THANKS YOU FOR GIVING TO THE LORD.
LIVES ARE CHANGING AT A RAPID RATE.
BLESSINGS,
Bush Bun­ny Bren­da Lange
And the Bala­ma Family