FROM

"

BUSH

BUNNY

BRENDA

"

DATE

:

AUGUST

16, 2014
BUNNY

AND

THE

3

BLAZERS

BUSIER

THAN

4

BEAVERS

IN

A

SPRING

FLOOD

!

Our inter­net is down com­plete­ly, so appre­ci­ate that we had to dri­ve 60km (30 miles) in order to send this today. Wasn't a huge sac­ri­fice since an ICE CREAM PARLOUR now opened in Mon­tepuez, so we all decid­ed to "sac­ri­fice" and have lunch at this won­der­ful lit­tle out­door café where we can all use inter­net. After all, can't let my friends down by not send­ing "THE BLOG". Tee Hee!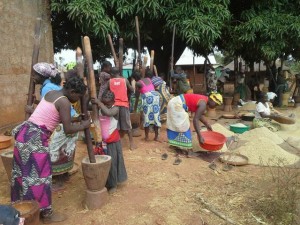 Bala­ma women "piller" (dehull) dried rice in huge home-made pedestals for the 119 orphan chil­dren liv­ing at the Bala­ma Mis­sion Station.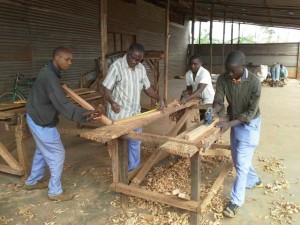 Car­pen­ters using hand tools to con­struct the two doors and three win­dows need­ed for the 11 child orphan home in Rovuma
THE
MASTER
HEALER
RESCUES
PEDRITO
SUNDAY AFTERNOON found me rush­ing Pedri­to, one of our 4 year old twin boys, to the hos­pi­tal along with his fos­ter moth­er, Ati­ja. After church, Pedri­to sud­den­ly spiked a fever that peaked at 106F (41C), lost con­scious­ness as we drove him the short 2 miles to the hos­pi­tal, and went into con­vul­sions short­ly after admit­ting him to the emer­gency room. We all "knew" it was cere­bral malar­ia just by look­ing at him, and prayed that Jesus would save him. Cere­bral malar­ia burns out your brain stem with a high fever ren­der­ing one uncon­scious, caus­es exces­sive brain swelling, kid­ney dam­age, fol­lowed by many con­vul­sions and final­ly death. Those that do sur­vive can expe­ri­ence brain dam­age. BUT JESUS ANSWERED in an awe­some way by hav­ing Pedri­to WAKE UP in the mid­dle of the night! (Total­ly NOT a nor­mal response to 1 dose of malar­ia med­i­cine.) When we arrived the next morn­ing, he grabbed a suck­er out of my hand, (total­ly nor­mal for Pedri­to), and asked to go to the bath­room!!!! He had to stay to com­plete his 3 days of malar­ia treat­ments, but end­ed up spend­ing 5 days because he picked up dysen­tery while there. He hap­pi­ly reunit­ed with his 3 broth­ers at their home on Fri­day noon.
JESUS saved Pedri­to with a mir­a­cle heal­ing, no one could deny. Every­one at the hos­pi­tal was amazed at his "mir­a­cle recov­ery", for all too often they "see the signs" and know the child will per­ish. Jesus used Pedrito's ill­ness to show them that HE IS STILL THE ONLY ONE WHO CAN HEAL THOSE WHO APPEAR DOOMED TO PERISH! THANK YOU JESUS!!!
NOW

THE

"

REST

OF

THE

STORY

"

Tues­day found Katie and I along with my Office Man­ag­er and right hand man, Cape­na, in Pem­ba to sub­mit her res­i­den­cy doc­u­ments at Immi­gra­tion. Best laid plans of mice and men didn't work as they refused her police clear­ance because it didn't have a "stamped" date and sig­na­ture on it (it was typed in). So new doc­u­ments were orga­nized in Texas with the prop­er stamp and should be here next week. Such are the "chal­lenges" of try­ing to get residency.

A phone call Mon­day con­firmed that the 16 lb (8kg) diaphragm need­ed to repair the 7 ton truck was await­ing pick up at the air­port. Eric, now our "Bush Bear" on the ground in South Africa, had orga­nized the part and air shipped it. Nis­san in Pem­ba didn't have it, and would have to order, tak­ing up to a month to get. Our hun­gry kids at the Ele­phant Vil­lage can't wait that long, so "The Bear" saved the day! We asked an Aus­tralian friend, a mas­ter mechan­ic, to install the part. Arriv­ing home from Pem­ba at 3pm with me total­ly beat after the 11 hour dri­ve, our friend called to say he need­ed to go out of town the next day, so would be there at 5pm to install the part. So Bun­ny and the Blaz­ers ate a quick sup­per, then Climbed under the truck in the dark to help. With Han­na and Katie sit­ting in the sand under the truck hold­ing a flash­light, and the head­lights of 2 pick-up's head­lights spot­light­ing the area, our 2 Aussie friends had the truck fixed in 90 min­utes. Ran like a dream with­out com­pli­ca­tions as we took food to over 300 orphans yes­ter­day (Fri­day) in Kwe Kwe. Made a stren­u­ous 15 hour day for us which had Bun­ny drag­ging a bit the next day, but it was worth it to have the truck in action again.
AND

THE

FOOD

GOES

OUT

!

Over 650 orphans and wid­ows received over 12 TONS corn, beans, soap and salt this week as Cape­na, the 3 Bala­ma Blaz­ers, and our men worked Thurs­day and Fri­day to deliv­er, return and reload to deliv­er the next day so that the kids would not go hungry.
MEGA

MONKEY

BARS

WITH

SUPER

SLIDE

TO

BECOME

A

BALAMA

BLESSING

TO

THE

CHILDREN

I stayed behind when the food teams went out, because Bun­ny and her brick lay­ers are build­ing a MIND BOGGLING MONKEY BAR SYSTEM at our Mis­sion station's playground—a dou­ble deck­er jun­gle gym with mon­key bars, and hope­ful­ly a 16 foot super slide com­bi­na­tion! The slide will begin from the top of the jun­gle gym at a height of 10 feet. Extra funds were giv­en so that this mega jun­gle gym sup­port­ed by 9 con­crete pil­lars could become a real­i­ty for our chil­dren. The team is busy putting in the foun­da­tion for the 9 con­crete pil­lars today, so I'll pho­to­graph it as the frame goes up over the next 2 weeks. It is one of the biggest con­struc­tion chal­lenges the team and I have ever attempt­ed, as coor­di­na­tion with our car­pen­ters is need­ed for all the wood­en beams that will sup­ply the "bars". Met­al pipe is sold out in Pem­ba due to all the heavy con­struc­tion, so we are forced to use wood instead. Will make it more of a chal­lenge to climb and to build! THE DESIGN is total­ly a "Bush Bun­ny dream design" inspired by watch­ing Swiss Fam­i­ly Robinson—always did want one of those tree hous­es! So even though ours is built from the ground, the 2nd sto­ry is IN THE TOP OF OUR HUGE MANGO TREE at the play­ground. With man­go sea­son just 3 months away, I can see the kids throw­ing rocks from the 2nd sto­ry of the jun­gle gym to get the best man­gos out of that tree.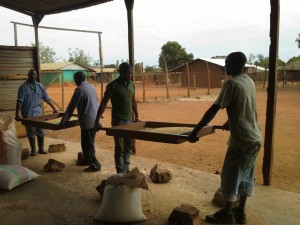 Men using large "sift­ing trays" with screen bot­toms to clean the corn of loose debris before it is sent to the mill at the mis­sion sta­tion. We mill 1.2 TONS a week in our own mill to feed the 119 orphans who live with us 'as well as the 150 orphans and wid­ows who fetch food each Thursday.
OK, off to Mon­tepuez so I can find some inter­net so I can to send this. I tru­ly enjoy your e‑mails, and so far, sim­ple text e‑mails are get­ting through. Please con­tin­ue to write, as it tru­ly encour­ages all of us.
Bless­ings, Bush Bun­ny Bren­da Lange The Bala­ma Blaz­ers: Katie Pol­cyn Ash­lynn Gra­bill Han­na Gilman