FROM

"

BUSH

BUNNY

BRENDA

"

DATE

:

AUGUST

9, 2014
MOTORBIKE
MINISTRY
SAVES
LIVES
On Thurs­day morn­ing, I was in Rovu­ma check­ing on 3 new baby goats, when Sal­vador, our 13 year old orphan from Nacala vil­lage 3 miles (5km) away, walked up to the goat pens accom­pa­nied by Pas­tor Salazar, his fos­ter Father. His bad­ly infect­ed and painful hand was so swollen that it resem­bled a rub­ber glove full of air. Straight to the hos­pi­tal we went, and PTL, the Doc­tor was able to attend to him imme­di­ate­ly in the Emer­gency Room. Hav­ing to lance any wound is very painful, but hands are even worse due to its many nerve end­ings. I take my hat off to Sal­vador, as he han­dled the pain with min­i­mal squirm­ing and only a few tears, as 3 men held on to him so he wouldn't strike the Doc­tor dur­ing the pro­ce­dure. Because I had to be in Pem­ba on Fri­day, I orga­nized Youth Pas­tor Car­l­i­tos Jorge to take him to the hos­pi­tal for the fol­low­ing 4 days for fur­ther treat­ment and Peni­cillin injec­tions. Motor­bikes play a big part in our min­istry, as they can get to places that our trucks can­not. Nacala vil­lage is one such place, as the road is very dif­fi­cult for even 4 wheel dri­ve pick-ups.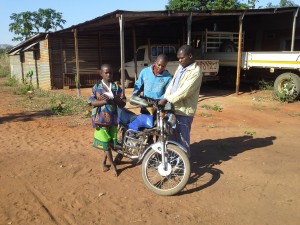 Used for both evan­ge­lism and res­cue, these bikes are a super valu­able instru­ment in sav­ing lives both spir­i­tu­al­ly and phys­i­cal­ly. Your love gifts at work!
ORPHAN
HOUSE
IN
ROVUMA
NEAR
COMPLETION

The walls are up and the roof is in progress.
The car­pen­try shop is busy mak­ing the door and 2 win­dows for the new house as well as a new door and a win­dow for the widow's house. Present­ly they have no secu­ri­ty for their belong­ings, as the house only has a "cana" door. That's a door made from the stalks of sug­ar cane. Stur­dy enough to keep out hon­est peo­ple and roam­ing goats or dogs, but is no chal­lenge if some­one real­ly wants to get in.
FOOD
DISTRIBUTIONS
MEANS
HOURS
OF
GROUND
WORK
BEFORE
HAND
Cape­na, our Office/Orphan Admin­is­tra­tor, has been busy since last Thurs­day, check­ing on the 300+ orphans & wid­ows in the Kwe Kwe area (9 vil­lages in all). Each year he per­son­al­ly vis­its the homes of those on our list to check on their con­di­tion and to make sure they still need our help with food. Orphans who are now inde­pen­dent, and no longer need our help, or who have got­ten mar­ried (age 15 is mar­ry­ing age here), are delet­ed and young orphans on that village's "need assis­tance list" are added in their place. It's a BIG JOB, as you lit­er­al­ly spend days walk­ing from hut to hut with the vil­lage chiefs, mak­ing very tough deci­sions as you vis­it hun­dreds of mud huts. On Mon­day, Cape­na and I will final­ize the Kwe Kwe list as their first food dis­tri­b­u­tion is this Thurs­day and Fri­day. The 7 ton truck is tem­porar­i­ly out of action, as we need to have the air brake sys­tem repaired to pre­vent a road­side break­down if the "cylin­der" hap­pens to crack fur­ther with all the jar­ring this truck takes on these rough dirt roads. The part is being flown up this week, and should be in our hands by Tues­day. Once the part has cleared cus­toms, Eric plans to fly in to make this major repair. This makes the Kwe Kwe dis­tri­b­u­tion a bit more dif­fi­cult since we can only use 1 truck, but NOTHING IS IMPOSSIBLE WITH JESUS BY OUR SIDE!
NELSON

TO

REPRESENT

OUR

ORPHANS

IN

STATE

CHILDREN

'S

PARLIAMENT

THIS

WEEK

Mon­day after­noon, Manuel will take Nel­son, age 16, the orphan leader of our boy's dorm, and 4 oth­er teens, to the 2 day State Children's Par­lia­ment being held in Pem­ba. School is out for the next 2 weeks, so teens from all over the state will be spend­ing this week help­ing law mak­ers by giv­ing tes­ti­mo­ny on how new laws could help all chil­dren in this nation to grow up to be bet­ter cit­i­zens. It's a great hon­or to be cho­sen as the 5 will rep­re­sent the 80,000+ chil­dren in our coun­ty (dis­trict).
KATIE
POLCYN
BEGINS
RESIDENCY
PROCESS
Katie flew back from South Africa yes­ter­day with a bag full of "good­ies" for all of us. She passed the first part of the res­i­den­cy process and received her Res­i­den­cy VISA at the Mozam­bi­can Embassy in Johan­nes­burg. On Tues­day, Cape­na will dri­ve her back to Pem­ba to sub­mit the 7 required doc­u­ments to request a 1 year tem­po­rary res­i­den­cy card. This is essen­tial if she wants to help us for the next year, since vis­i­tors can only stay 90 days in this country.
A busy week ahead will keep Bush Bun­ny and the Bala­ma Blaz­ers hop­ping for sure! Keep us in your prayers.
Bless­ings, Bush Bun­ny Bren­da Lange The Bala­ma Blaz­ers: Katie Pol­cyn Han­na Gilman Ash­lynn Grabill
POST SCRIPT,
OUR

GOATS

LINE

UP

FOR

WORMING

TREATMENT

.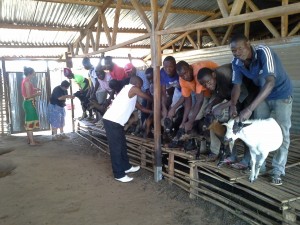 We love to show you our beau­ti­ful goats and the crew loves it too.