FROM

"

BUSH

BUNNY

BRENDA

"


DATE

:

SEPTEMBER

30, 2023




BABY

ANCHA

WITH

POST

MALARIA

BLAHS

DUE

TO

ANEMIA



After com­plet­ing the 3‑day course of malar­ia med­ica­tions last week, Baby Ancha's strength didn't spring back as is usu­al with tod­dlers. Instead, she remains tired, lacks an appetite, and is run­ning a low-grade fever in the late after­noons.

We took her to the hos­pi­tal for a post malar­ia lab test which came back neg­a­tive. That tells us that her symp­toms are com­ing from her low blood count. Malaria's biggest tool for killing lit­tle ones is the post malar­ia ane­mia it can cause. Ancha is receiv­ing the max­i­mum pro­tein and vit­a­min sup­ple­ments that are avail­able, so now we must wait.



18-month-old Ancha is not a hap­py camper. Ane­mia is slow to cor­rect itself.

Thir­ty days is a nor­mal recov­ery time for this type of ane­mia when tak­ing sup­ple­ments. Please keep her in your prayers.




BABY

JUMAIDA

GIVES

US

A

SCARE



It is always a time to cel­e­brate when our very vul­ner­a­ble infants make it to the 5 kg./11 lb. mark! That means they are usu­al­ly strong enough to han­dle being out of their mos­qui­to net and thus out­side with her fos­ter fam­i­ly.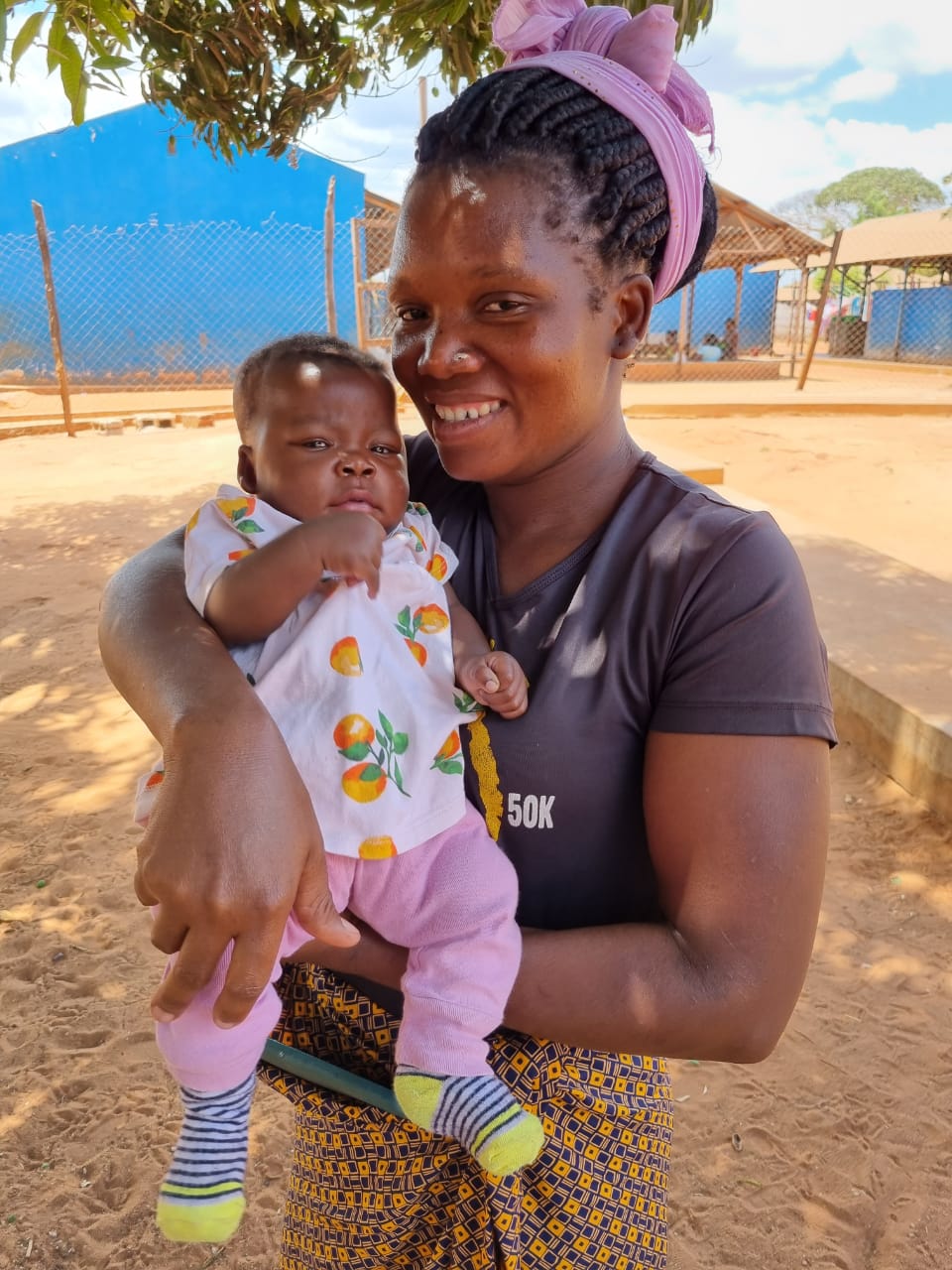 Jumai­da dear­ly loves being out­side under the huge man­go tree at House # 7.

Thurs­day, 2 pm, Jumai­da pre­sent­ed with a lit­tle diar­rhea. She was giv­en the nor­mal oral treat­ment and seemed to be fine since she was tak­ing a bot­tle. At 6 pm, I received a pan­icked call from Head House Moth­er Gil­da. Jumai­da had just filled her dia­per and tak­en a turn for the worse. "Come quick­ly!" Gil­da said.

Rac­ing to House # 7, I knew Jumai­da need­ed

IV

flu­ids and med­ica­tions imme­di­ate­ly as she was almost non-respon­sive. Thank­ful­ly, the Emer­gency Room Direc­tor was work­ing, as he is excel­lent with start­ing infant

IV

's. With

IV

flu­ids, elec­trolytes, and

IV

treat­ment for the diar­rhea, he had Jumai­da awake with­in 45 min­utes of our arrival! Thank you,

JESUS

! What a relief it was to see her look­ing around as if ask­ing, "Where am I?"




PRAYERS

REALLY

DO

MAKE

A

DIFFERENCE

!

There is no doubt in my mind that God's Angels were watch­ing over our lit­tle Jumai­da, mak­ing sure that she was well tak­en care of. Dysen­tery is so easy to con­tract. As adults, we deal with the incon­ve­nience, take the med­i­cine to stop it, and don't think much about it. To a 3‑month-old infant, 1 micro­scop­ic bac­te­ria from a sucked fin­ger is all it takes to start the process.

Jumai­da is an over­com­er, as this is her 2nd ill­ness need­ing hos­pi­tal­iza­tion. She is one tough lit­tle girl for sure!

PLEASE

KEEP

JUMAIDA

IN

YOUR

PRAYERS

, and I will keep you updat­ed.




WIDOWS

AND

THEIR

FAMILIES

POUND

THE

RICE

FOR

ORPHAN

GIVE-OUT




Our church wid­ows work­ing hard so oth­ers can eat.
https://youtube.com/shorts/db5Jpyxcq7I

These young ladies make rhyth­mic pound­ing of rice look so easy!
https://youtube.com/shorts/e0BmL6vwKQ8

These pre­cious wid­ows and their grand­kids from our church worked very hard for 4 straight hours to de-hull 10 sacks of rice for the elder­ly orphan care­tak­ers whose "pil­lar­ing" days are over. Pil­lar­ing is hard work, as those poles weigh around 10 kg./22 lbs. each! That's why the video of the lit­tle girls shows them using short poles that aren't so heavy.

TO

PILLAR

or pound the rice, is to remove its hull so the seed (rice as you know it), can be cooked and eat­en. This week we had our first rice give-out. It went fair­ly smooth­ly even though we had to make many changes in our dis­tri­b­u­tion meth­ods.



LIFE

IS

ALWAYS

CHANGING

.

ONLY

THOSE

WHO

FLEX

WITH

IT

WILL

SURVIVE

.



NOTE

TO

"

LOVE

GIFT

"

GIVERS

: The August finan­cial report blessed me to tears!



THANK

YOU

ALL

SO

MUCH

FOR

CONTINING

TO

GIVE

SO

THAT

OUR

LITTLE

ONES

CAN

HAVE

A

JESUS

FUTURE

.



BLESSINGS

,


BUSH

BUNNY

BRENDA

LANGE




AND

THE

BALAMA

STAFF