From: "Brenda Lange" Subject: Blog, April 19, 2013
CALLING
IN
THE
BEANS
A
TEACHABLE
MOMENT
Might sound a bit weird to some of you, but the Lord Jesus tells us in the Bible to ASK ANYTHING IN HIS NAME, and it shall be done as long as we do not ask amiss. WE ASKED for beans for our orphans, and God is answer­ing in a very unusu­al way. THE NEED IS FOR 100 TONS of beans if we are to help the 2,800 orphans that are reg­is­tered in our program.
Cape­na, our Project Man­ag­er vis­it­ed the 6 vil­lages that "ordi­nar­i­ly" are able to grow the ENTIRE 100 TONS. It was a bit dis­turb­ing when his report showed that they "might" have 10 tons to sell. Too much rain is the cul­prit, as most of the crops drowned.
THEN GOD STEPPED IN to sur­prise me with the fruit of my teach­ings from last year. Yes­ter­day, the 2 Pas­tors from the vil­lages of Nama­ra and Pequar­ia came to tell us that their church mem­bers, along with some of the vil­lagers, had almost 21 tons they could sell! This is not a nor­mal grow­ing area for beans, so this took us all by surprise!
When I was teach­ing in Nama­ra last Novem­ber (plant­i­ng time), I showed those mem­bers how to walk their fields PRAYING as they plant­ed. Their prayer was to be very specific—ASKING JESUS TO BLESS THEIR FIELD WITH A 100 FOLD HARVEST as they plant­ed their seeds. From these reports it is obvi­ous, they did just that! WOW, to go from a nor­mal har­vest of just enough to feed their fam­i­lies to a SURPLUS of over 21 tons is tru­ly a bless­ing of the Lord.
My objec­tive when teach­ing was to help them achieve a max­i­mum har­vest that would sus­tain their fam­i­ly and give them extra to sell. I had no idea it would be OUR ORPHANS who would ben­e­fit from their obe­di­ence and the bless­ing that God placed on them.
Our 2nd bit of wis­dom from the Lord showed us that the many of the local Bala­ma farm­ers have a small amount they can sell. For the first time in over 8 years, we will buy direct from the pub­lic (1 kg at at a time), as they bring in what they have to spare. We don't nor­mal­ly do this, as it is very time con­sum­ing and labor inten­sive since many peo­ple only bring in a few pounds each. But our mot­to is, WE DO WHATEVER IT TAKES TO FILL OUR BARNS FOR THE KIDS.
PTL, that the food is out there, we just have to find it. Our orphans in Melu­co coun­ty, includ­ing the Ele­phant Vil­lage, will be total­ly depen­dent again on food from Bala­ma. Just as we were get­ting too much rain, they had a mas­sive drought and most of their crops burnt to a crisp in the hot sun.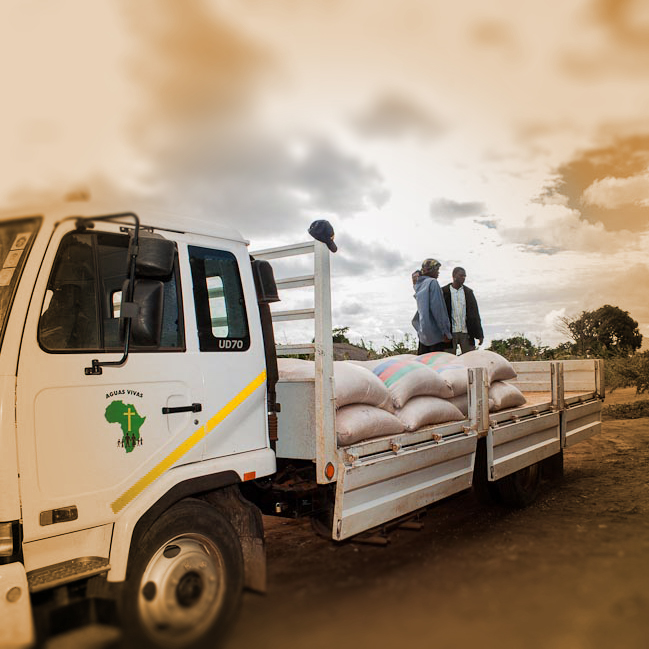 THANKS FOR JOINING US IN PRAYING IN THE FINAL 70 TONS OF BEANS. The Bush Bunny's next move is to have a BUSH BASHING BEAN HUNT!
SAGA CONTINUES FOR THE TWO BABIES IN LAST WEEK'S BLOG Both babies are doing slight­ly bet­ter this week after being treat­ed at the hos­pi­tal for ane­mia and mal­nu­tri­tion. The Bala­ma Dr. still has no clue as to WHY they are not gain­ing weight, but the coun­selling giv­en to the moth­ers seems to have done some good. The Eagle Eye Bush Bun­ny and her side kick, Nilza, (our trained Social Ser­vice staff mem­ber) will keep a close eye on them for sure. Thanks for all your prayers and con­cern for these 2 pre­cious lit­tle ones.
ERIC RETURNS TO MOZ. FROM RSA WITH A CROWNED TOOTH APRIL 20th. I'll be in Pem­ba on Sat­ur­day (thus the ear­ly Blog this week), in order to fetch Eric at the Pem­ba air­port. We'll do an "in and out" which means I dri­ve the 3.5 hours to Pem­ba that morn­ing, buy sup­plies, and then fetch him at 2:30pm. The entire round trip is a tir­ing, 12 hour day on the road for me and my trav­el­ing crew. Lin­da Stan­ley will remain at the Bala­ma base to "hold down the fort" while I'm gone.
If you have any ques­tions you'd like to see answered in the blog, then please send them. I'll do my best to answer them IN THE BLOG so that every­one can benefit.
Bless­ings, Bush Bun­ny Bren­da and the Bala­ma gang