From: "Brenda Lange" Subject: Blog, April 13, 2013
BUNNY

IS

BACK

,

AND

OUR

CONSTRUCTION

TEAM

WERE

EAGERLY

WAITING
First, let me say it is GREAT TO BE BACK! Africa is home!
We have our 3rd orphan com­pound to build and no time to waste doing it! The rains have stopped and no time to waste as the Bible Schools are gear­ing up and the food har­vest is close at hand. Mon­day was a hol­i­day, so I spent it meet­ing with my con­struc­tion team lead­ers and set­ting up 4 dif­fer­ent Bible schools in 2 coun­ties with our Evangelist/Teacher, Pas­tor Alberto.
On Tues­day, the car­pen­ters went to work remov­ing the roofs from the children's homes. The trac­tor crew moved Assia's (Ah-si-ah's) house of orphans to the sub­sti­tute quar­ters just down the street from where they were liv­ing. Before the final fur­ni­ture was com­plete­ly moved, our car­pen­ters set an all-time record get­ting the roof off the boy's house, and had start­ed on the girl's house by the time their 8 hours were up. On Wed., the brick lay­ers tore down the boy's home and made short work of the girl's home on Thurs­day morning.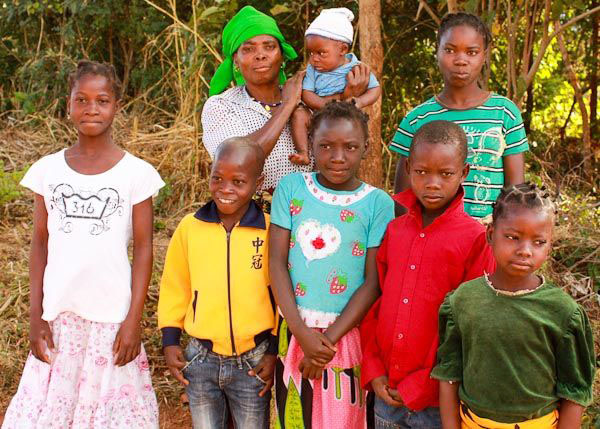 By Fri­day the entire area, includ­ing the old foun­da­tions, had been removed and the area was ready for the new con­struc­tion. As I watched the dust and dirt fly­ing as this awe­some team of men loaded the trac­tor, I thought back to Jack­sonville, Flori­da, where a prayer part­ner proph­e­sied over me that this year's work was going to move at an accel­er­at­ed rate. No one had to tell me that this was God's hand at work. I've nev­er seen our work crews move at such a fast pace.
On Mon­day, we will mark the new 60 foot home to be built with a large girl's bed­room on one side and the boys new room on the oth­er end. Their lunch room sits between the 2 bed­rooms with doors to all the rooms open­ing only to the out­side. I couldn't be hap­pi­er as the expe­ri­ence we gained from last year's con­struc­tion is mak­ing it much eas­i­er to plan and exe­cute this year's project.
TWO
BABIES
NEEDING
PRAYER
(We weigh and pro­vide for­mu­la and high pro­tein baby food each week to orphaned babies being cared for by their grand­moth­ers or aunts, as well as the babies of moth­ers who failed to make breast milk.) Check­ing in on the baby clin­ic this week, I was shown 2 babies who were stag­nant in weight gain (both about 10 lbs. (4.4kg) at 9 months of age). This is star­va­tion lev­el with their sag­ging skin lay­ing limp on their lit­tle bones. With sev­er­al months of high pro­tein baby cere­al and baby for­mu­la behind them, this is NOT NORMAL. A call to Social Ser­vices orga­nized them an imme­di­ate med­ical eval­u­a­tion at the Bala­ma hos­pi­tal. Whisk­ing them off to the hos­pi­tal in my pick up, the Dr. took them right in and con­firmed my diag­no­sis of extreme ane­mia in one baby, but the oth­er child is a mys­tery. Both moth­ers are sus­pect­ed of pos­si­ble neglect (not giv­ing all the food to the infants, but eat­ing part of it them­selves). This has hap­pened before, and is a hard case to prove. The 2 moth­ers were told to bring their babies back to the hos­pi­tal this Mon­day for fur­ther eval­u­a­tion. I'll keep you informed on what is going on. Our hope is that this firm coun­selling and "hands on treat­ments" will be a wake-up call to the moth­ers and show them they must do bet­ter by their chil­dren. It is very sad when a moth­er neglects a baby so they can stay longer in our pro­gram. I nev­er expect­ed to be doing "social work", but when you run a baby clin­ic or orphan pro­gram, the abuse prob­lems come with the territory.
The Lord gave me a "res­cuer" per­son­al­i­ty, and you can ask any of the bul­lies from my 3rd grade neigh­bour­hood in Hous­ton, cause this Bun­ny is a DEFENDER OF THE INNOCENT. (I would escort the 1st and 2nd graders home so that the local bul­lies couldn't swipe their lunch box­es.) The bul­lies only con­front­ed me once, before real­iz­ing they were out­matched. Comes from grow­ing up a Tomboy that want­ed to be a secret agent. (Smile, cause I know some of you dreamed of the same thing.)
NEW FORMAT FOR THE 2013 BLOG I'll be writ­ing each week's hap­pen­ings every Sat­ur­day, so you can have the news to take to your church­es on Sun­day morn­ing. If there are great mir­a­cles or oth­er hap­pen­ings at our Sun­day ser­vices, I'll quick­ly send you the sto­ry so you can share that also.
ERIC HEADED TO RSA THIS WEEK Lin­da and I will be run­ning the whole show this Wed. to Sat­ur­day, as Eric has a bro­ken fill­ing and must fly to S. Africa (RSA) as no den­tal work short of pulling a tooth is done in our area. Don't wor­ry, we made up a whole list of lit­tle good­ies he can stuff in his lug­gage that will sup­ple­ment our "African cuisine".
Love and Hugs,
Bush Bun­ny Bren­da and the Bala­ma gang