From : Brenda Sue Lange, Bush Bunny Brenda Date: November 2, 2013
JORGINA
JOINS
OUR
FAMILY
Baby Jorgina, born May 17th, lost her moth­er from sur­gi­cal com­pli­ca­tions 2 months ago. Weigh­ing only 7.2 lbs (3.3kg) at 5.5 months of age, she is in a severe­ly mal­nour­ished con­di­tion called "fail­ure to thrive". Her father and aunt walked in from 12 miles away to ask help in ear­ly Sep­tem­ber. (Due to the wife's illness/surgery their corn/bean fields were neglect­ed and the har­vest was poor.) So the father as well as the oth­er 4 chil­dren in the fam­i­ly, are severe­ly mal­nour­ished and were admit­ted into our feed­ing pro­gram imme­di­ate­ly. All are recov­er­ing well except Baby Jorgina.

Meet Baby Jorgina, our newest family member.
Jorgina has been sick with diar­rhea and res­pi­ra­to­ry infec­tions most of Octo­ber. The father is over­whelmed with his new respon­si­bil­i­ty of being both moth­er and father to his 4 old­er chil­dren, and the aunt has failed to prop­er­ly care for Jorgina.
The father real­ized Thurs­day that Jorgina would not sur­vive with­out bet­ter care, and agreed to allow us to accept Jorgina into our fam­i­ly for a year. Our girl's home is full with 4 of the 6 girls being under 6, so church mem­ber Fati­ma, agreed to love and care for Jorgina.
She's doing an excel­lent job. Jorgina is on antibi­otics for her res­pi­ra­to­ry infec­tion, and eat­ing like there is no tomor­row. She is so TINY, that every­one mis­takes her for being only a month old, UNTIL SHE GRABS FOR HER BOTTLE! Just try tak­ing it away from her, and you quick­ly find out she can be VERY per­sis­tent in get­ting it back! She's quite the cutie and is get­ting loads of atten­tion from our entire staff.
THANKS

TO

ALL

OF

YOU

,

JORGINA

,

NOW

HAS

A

CHANCE

TO

BE

ALL

THAT

GOD

PLANNED

FOR

HER

TO

BE

.

Our lit­tle Jorgina needs a $30/month spon­sor to pro­vide her with baby food/formula, cloth­ing, and the love of her sub­sti­tute mother.
THE
STARVING
WIDOW
AND
ELIJAH
STORY
COME
TO
LIFE
Unknown to me and our Pas­tors, Fati­ma, (sto­ry above) and her 4 chil­dren had just run out of food in their home on the day we con­tact­ed her! When I asked Domini­ca, our Woman's Pas­tor, to find me a wid­ow who would love Jorgina as her own, Fatima's name imme­di­ate­ly came to mind.
Coin­ci­dence? Hard­ly, as Fati­ma had told no one but God of her need for food, and HE answered her prayer by telling her to give what she had to Baby Jorgina.
When we did the house inspec­tion, the lack of food was imme­di­ate­ly evi­dent. With­out hes­i­ta­tion, we orga­nized food for this fam­i­ly. Fati­ma also needs her roof fixed, as the grass has most­ly blown away and she has no latrine. Rainy sea­son is upon us lat­er this month, so we have no time to lose. Grass to fix the roof will costs $60. Build­ing her a latrine/bathing area from local mate­ri­als: $55.
GEARING
UP
FOR
AWANA
GAMES
With only 1 set of bean bags, track batons, and tug-o-war rope, we need­ed to go shop­ping before we could out­fit all our teams with what they need­ed. As Lar­ry Friend from AWANA Int. left for the air­port, Eric took him to our hard­ware store in Pem­ba where they fetched plas­tic pipe for mak­ing the batons and col­ored cloth for the bean bags. Last week­end, I was able to buy the large tug-o-war rope that the kids love so much. The pipes are now paint­ed the famous 4 col­ors (blue, red, yel­low, and green), and the bean bags are being made on our ped­al sewing machine as I write this. With 3 major food dis­tri­b­u­tions to the orphans in remote vil­lages keep­ing our small staff super busy this week, our goal is to get the mate­ri­als ready so that the AWANA pro­grams can begin by Nov. 15th.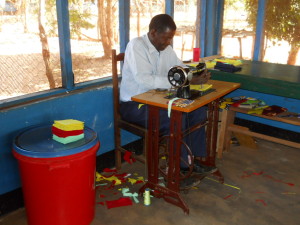 Bean Bags Becoming Big Business in our sewing shop.
The kids can hard­ly wait, as they love play­ing the games and hear­ing the Jesus sto­ries in the TRUTH SEEKERS curriculum.
AWANA games pro­vide us many alter­na­tive ways to attract chil­dren of ALL AGES to Jesus, where soc­cer lim­its us to most­ly the old­er chil­dren. Every­one can play these games, with no prac­tice need­ed. THANK YOU LARRY FRIEND, and THANK YOU JESUS for such a won­der­ful program.
SNAKE

HUNT

INSIDE

ERIC

'S

HOUSE

Eric calm­ly walks into break­fast yes­ter­day say­ing he need­ed our help as a 1 ft. (30cm) black snake had con­front­ed him as he sat in his read­ing chair in his bed­room on Thurs­day night. He whacked it with his snake stick, break­ing it's back near the tail, but the snake zipped behind Eric's very heavy book­case before Eric could kill it. So after break­fast, our guard put on leather gloves, grabbed his snake killing bam­boo rod, and off we went to Eric's bed­room. The guard care­ful­ly began pulling on a board that held a heavy stack of mag­a­zines on the floor, under the first shelf of the book­case. I was sta­tioned at the end of the book­case with a "slash­er" (sharp met­al grass cut­ter with a long han­dle) to pre­vent the snake from escap­ing on that side. As our guard care­ful­ly pulled the board out con­tain­ing the mag­a­zines, I was poised ready to strike if the snake was there. Much to our sur­prise, the snake was there alright, but DEAD, as the weight of the slid­ing board with the mag­a­zines on it had rolled him, crush­ing him in the process. It appears to be a baby black mam­ba that slipped through Eric's sep­tic sys­tem into the house via his bath­room. So "THE BEAR" slept bet­ter last night know­ing he wouldn't have a bed part­ner join­ing him.

We encounter many snakes but thanks to Jesus' angels, who are ALWAYS on duty, none have ever been able to strike us. We keep our eyes open, but when the inevitable encounter hap­pens, we know that JESUS IS STILL OUR MIRACLE SAVIOR WHO KEEPS US UNDER HIS WINGS OF PROTECTION.
WORDS
OF
WISDOM
Nev­er let a bad sit­u­a­tion bring out the worst in you.
CHOOSE to stay Pos­i­tive and BE the STRONG PERSON that GOD cre­at­ed you to be!
With all of our chal­lenges late­ly, I post­ed this on my bed­room wall to help keep me focused on JESUS' WILL and not mine!
Bless­ings, Bush Bun­ny Bren­da Lange and the Bala­ma staff Eric Dry Melis­sa Olmesdahl