FROM

"

BUSH

BUNNY

BRENDA

"
DATE: JANUARY 30, 2016
PROVINCIAL
SOCIAL
SERVICE
DIRECTOR
VISITS
OUR
CHILDREN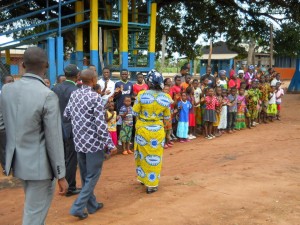 Provin­cial Direc­tor, Maria Isabel Raimun­do, greet­ed us with a warm smile and cheer­ful words as she walked into our mis­sion sta­tion on Wednesday.
Her heart for the chil­dren was clear­ly vis­i­ble, as we were told in prepa­ra­tion for her vis­it, that she had no desire to see paper­work, but want­ed to meet all the chil­dren and the fos­ter mothers.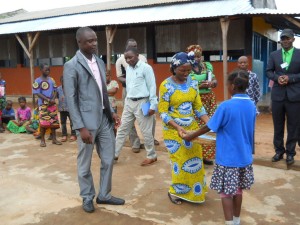 Direc­tor Maria is pre­sent­ed with a wel­com­ing gift by nine year old Felismina.The gift is a localal­ly made bas­ket wood­en spoon, an agenda,and a wildlife calandar.
Far right: hand­some young man in the suit is Cape­na, our Office Man­ag­er, and "right-hand man".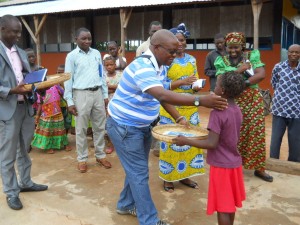 Assis­tant Direc­tor, Guil­herme Dos San­tos, receives his gift from sev­en year old Angel­i­ca. Guil­herme worked hand in hand with us to expe­dite our licens­ing last year.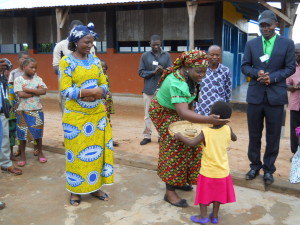 Tech­ni­cian, Emil­ia Muzi­la, recives her gift from four year old Orten­cia. All three of the girls who pre­sent­ed gifts came to us as babues and are blos­som­ing into beau­ti­ful young ladies.
True to her word, she spent all but 15 min­utes of her 2 hour vis­it talk­ing with the moth­ers and chil­dren, vis­it­ing 4 of our children's homes, and ask­ing non-stop ques­tions of every­one she met. Only 15 min­utes was spent in our office for her sum­ma­ry, and that was most­ly to com­pli­ment us on a job well done! She rec­om­mend­ed a few minor changes in one of the homes, before stat­ing how thrilled she was to meet all of us and see first-hand how our pro­gram func­tions. She informed us that she looked for­ward to her next vis­it, as she plans to return in the dry sea­son. It rained 2 INCHES (50mm) the night before her vis­it, giv­ing her a real taste of just how mud­dy Bala­ma can get in the rainy season.
My entire staff "Praise the Lord" for hav­ing sent such a won­der­ful­ly com­pas­sion­ate lady to over­see all orphan pro­grams in our state.
RAIN EXCEEDS 350 mm (14 inch­es) IN LAST 15 DAYS!
The gov­ern­ment was not exag­ger­at­ing when they put out the "orange warn­ing" on Jan. 15th. It is pour­ing buck­ets as I write this, as we received 100 mm (4 inch­es!) of rain in the last 28 hours and it is still pour­ing down hard. Keep us in prayer, and espe­cial­ly those 5 chil­dren in the sto­ry above, as they have not agreed to leave their house yet. Our plan was to get them to a safer loca­tion on Mon­day, as they will have no choice but to move if this storm destroys their hut. I plan a per­son­al vis­it to see them on Sun­day, as this may turn into an emer­gency res­cue as this storm is quite fierce and shows no signs of let­ting up!
(Now you know why Jesus said don't build your house on the sand, and that goes for mud huts built in low lying areas also!)
CHILD HEADED HOUSEHOLD OF 5 ORPHANS NEEDS RESCUED
After leav­ing our pro­gram, Direc­tor Maria was tak­en to vis­it 2 of the fam­i­lies liv­ing in oth­er areas who receive food assis­tance from our program.
One of those fam­i­lies is a "child head­ed house­hold" of 5 orphans, with the old­est teenage girl act­ing as "moth­er" to her sis­ters and broth­ers. We tried to get them to come live with us last year, but they refused. Our help­ing hand then pro­vid­ed repairs on their mud hut in the dry season.
Unknown to us, the exces­sive rain (12+ inch­es in last 10 days) and high winds have bad­ly dam­aged their hut dur­ing this last week.
When the Direc­tor returned home on Fri­day, she sent us an e‑mail request­ing max­i­mum assis­tance for these 5 orphans. (new mud hut, clothes, school uni­forms, school mate­ri­als, beds and blan­kets). Most of their items have been dam­aged or destroyed due to a bad­ly leak­ing roof.
Thanks to a spe­cial Christ­mas gift from a Wichi­ta, Kansas Com­pa­ny, the mon­ey need­ed to orga­nize this mas­sive type of help for these orphans is already in the mail.
I'll keep you post­ed, as this "res­cue" is ongo­ing this entire week as we orga­nize a new place for them to live. (Note: Build­ing with mud brick in the rainy sea­son is impos­si­ble, so we are try­ing to orga­nize a hut near us.)
THANKS AGAIN, to our faith­ful friends in Wichi­ta for mak­ing this new home possible!
HAND IN HAND WITH THE LEAST OF THESE!
Your LOVE, shown through your prayers, giv­ing, and car­ing makes it pos­si­ble for these rescues!
SPECIAL NOTE: In my 2015 end of the year report, I failed to men­tion that dur­ing my 17 years here in Bala­ma we drilled 15 water wells which are ALL still func­tion­ing, and have com­plete­ly reha­bil­i­tat­ed or repaired over 200!
My thanks goes out to all those who con­tributed to this mas­sive life-sav­ing pro­gram which pro­vides clean drink­ing water to most of the pop­u­la­tion of 2 Dis­tricts (coun­ties). That's an esti­mat­ed total of over 200,000 peo­ple whose health is bet­ter because of your love gifts.
Bless­ings,
Bush Bun­ny Bren­da Lange
And the Bala­ma staff