FROM

"

BUSH

BUNNY

BRENDA

"

DATE

:

APRIL

11, 2020


JESUS

'

FOLDED

NAPKIN

AND

IT

'S

TRUE

MEANING



Did you ever won­der why the dis­ci­ple John told

IN

DETAIL

about the cloth that cov­ered Jesus' face in the tomb? It was neat­ly fold­ed and laid to one side, while the rest of the bur­ial clothes were left in a heap on the bur­ial stone.

Here's the sto­ry behind that most impor­tant "sign". In Hebrew cul­ture, when the mas­ter of the house left the din­ner table, he either left his nap­kin in a heap or he fold­ed it nice­ly and set it beside his plate. A heaped up nap­kin told the ser­vants that the mas­ter was fin­ished eat­ing, and they could clear the table.

THE

NICELY

FOLDED

NAPKIN

told the ser­vants, leave the table as it is, I'M

COMING

BACK

!



OUR

LORD

JESUS

IS

COMING

BACK

! He left us this most impor­tant "sign" for He knew the Jew­ish peo­ple would know it's mean­ing.

JESUS

'

RESURRECTION

WAS

ONLY

HIS

FIRST

STEP

.

HE

WILL

SEE

US

VERY

SOON

! A

FACT

to use when talk­ing to unbe­liev­ers.

HAPPY

RESURRECTION

DAY

!



BUSH

BUNNY

TIDBITS



1. All our chil­dren are healthy and going about their dai­ly rou­tines, while the fos­ter moth­ers are anx­ious­ly wait­ing for the school to reopen, hope­ful­ly in May. Our school year begins Feb. 1st and ends late Octo­ber each year, so our chil­dren still have time to catch up on their lessons.



Our Vic­to­ry House kids in their new school uni­forms ear­li­er this year.

2. Baby Angeli­na (held by her fos­ter moth­er, Bal­bi­na), gives us a big smile after she com­plet­ed her "week­ly weigh in".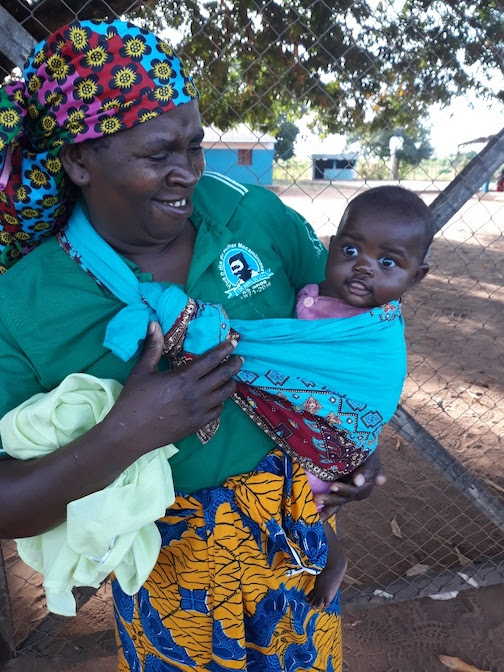 Baby Angeli­na smiles for us all. At 6 months of age, she now weighs 5.9 kg (13 lbs.) That is what a lot of lov­ing care and the prop­er foods can do for a mal­nour­ished baby.

YOUR

LOVE

GIFTS

MADE

THIS

POSSIBLE

!

3.

MORE

TRIPLETS

! Three tiny girls this time, with the small­est lit­tle girl, Ros­in­ha, (2.2 lbs or 1 kg), strug­gling. She tires eas­i­ly when try­ing to take a bot­tle. I showed the fam­i­ly how she must be giv­en small amounts of milk every hour in day­time and every 2 hours at night, if she is to gain strength.



Triplet girls received April 9th.​

The oth­er 2 girls (Rosa and Ros­ali­na) are much stronger at dou­ble her weight. Please keep all 3 of them in your prayers.

4. The 1st set of triplets (2 boys and a girl) received March 19th are all doing well. They are show­ing good weight gain (thanks to your prayer pow­er).



The triplets we met in March, with their moth­er on the far right. The lit­tle girl, Mar­cia, who was the weak­est, is doing much bet­ter as she gained 300gms this week, and is look­ing much stronger.



HAPPY

EASTER

,

AND

MAY

YOU

CONTINUE

TO

BLESS

OTHERS

AS

YOU

HAVE

BEEN

BLESSED

THIS

WEEK

.



BLESSINGS

,


BUSH

BUNNY

BRENDA

LANGE




AND

THE

BALAMA

STAFF