FROM

"

BUSH

BUNNY

BRENDA

"

DATE

:

APRIL

18, 2020


RESURRECTION

EGGS

– A

BIG

HIT

ON

EASTER

SUNDAY



With the church­es closed, our chil­dren met in their small home groups. No expo­sure to chil­dren oth­er than the ones they live with. This meant our Youth Pas­tors had to do sev­er­al pre­sen­ta­tions, but it all went smooth­ly, and the chil­dren loved the

RESURRECTION

EGG

PRESENTATION

along with the large col­or pic­tures of Jesus and his final act of love for us.



Teach­ing the Res­ur­rec­tion sto­ry of Jesus in small house groups to our orphans.​

If you're not famil­iar with these "break open" Plas­tic Eggs, each egg is filled with 1 minia­ture piece that tells the entire Res­ur­rec­tion Sto­ry of Jesus. Starts with the tiny don­key that he rode upon entry to Jerusalem, and ends with the

WHITE

EMPTY

EGG

rep­re­sent­ing His ascen­sion. This is real­ly a great tool for teach­ing small groups, so give it a try! The eggs were brought over by a friend from the

USA

.



Car­l­i­tos Jorge, head of

BBC

, demon­strates Res­ur­rec­tion Eggs with minia­ture fig­ures inside.​

We are very grate­ful that all our chil­dren remain healthy and super active dur­ing this time of world health chal­lenges.



TRIPLET

CHALLENGES


Two of the triplet girls born on April 2nd pre­sent­ed with seri­ous health chal­lenges this week. Sad­ly, the lit­tle girl, Ros­in­ha, who weighed only 1kg (2.2lbs.) passed away from res­pi­ra­to­ry com­pli­ca­tions at the Bala­ma Hos­pi­tal Thurs­day night, April 16th. Her sis­ter, Rosa, weigh­ing only 2 kg (4.4lbs) was diag­nosed and admit­ted with Malar­ia. Malar­ia is dead­ly to an infant of only 15 days, mak­ing her sur­vival a mat­ter of intense prayer. She needs a Jesus mir­a­cle for sure.



Triplet girls. Ros­in­ha far right and Rosa in the mid­dle.

The old­er

TRIPLETS

(2 boys and a girl) born on March 15th are look­ing stronger and gain­ing weight. I take my hat off to this moth­er, who is rais­ing these 3 babies with only the help of her young son and daugh­ter.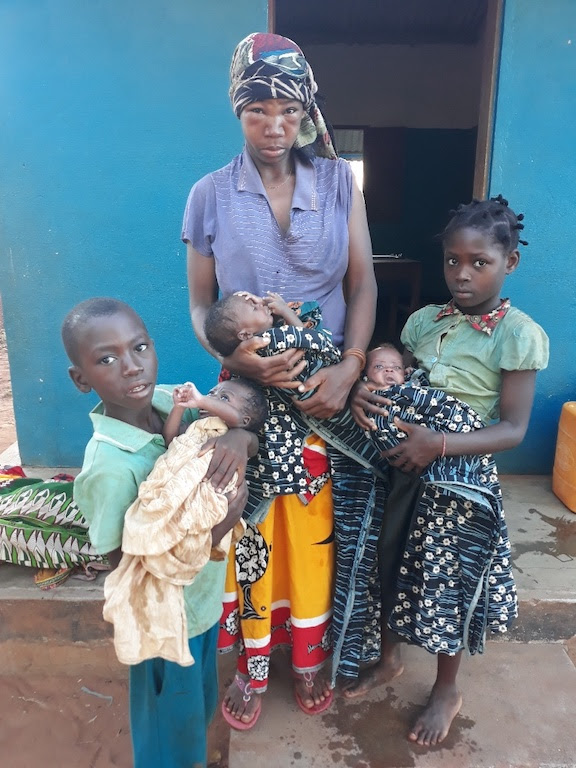 Triplets (2 boys and a girl) gain­ing weight and look­ing stronger.

Keep pray­ing for this fam­i­ly, as the babies are still very vul­ner­a­ble. Since they all weigh between 5 and 7 lbs. (2.35kg to 3.2kg) at one month of age, these 3 have a good chance of sur­vival.



LENDING

A

HELPING

HAND



The 12 beds made for the Bala­ma hos­pi­tal by a local welder were ready for trans­port last Wednes­day. We were asked to lend a hand since our long bed 6‑ton-truck could car­ry them all at one time to their need­ed loca­tion. The beds were tak­en to the new Ntete Clin­ic Build­ing about 6 miles (12 km) from Bala­ma, and will be used as an iso­la­tion ward if virus patients present in our area.



Load­ing new beds onto our 6‑ton-truck​.

At this time there is no virus in our area, and we

PTL

for that!



TOGETHER

WE

ARE

KEEPING

JESUS

'

CHILDREN

SAFE

AND

HEALTHY

.


THANK

YOU

FOR

YOUR

CONTINUED

PRAYERS

AND

LOVE

GIFTS

EVEN

DURING

YOUR

OWN

PERSONAL

CHALLENGES

.



BLESSINGS

,


BUSH

BUNNY

BRENDA

LANGE




AND

THE

BALAMA

STAFF