From: "Melissa Olmesdahl" Subject:
BLOG

,

SEPTEMBER

13, 2013
A
NOTE
TO
ALL
FROM
MELISSA
OLMESDAHL
Hi fam­i­ly and friends
One of the most amaz­ing sounds for me is the sounds of the vil­lage at night. Some­times I just lay there and lis­ten to our kids wor­ship­ping God before I go to bed. I've only dis­cov­ered this recent­ly, but it's so beau­ti­ful and peace­ful. It's like my own lit­tle piece of heav­en to hear their sweet voic­es just before bed time, as they ser­e­nade the Lord.

It makes me think of the scrip­ture in Colossians3:16 – Let the mes­sage of Christ dwell among you rich­ly as you teach and admon­ish one anoth­er with all wis­dom through psalms, hymns, and songs from the Spir­it, singing to God with grat­i­tude in your hearts.
I told you last time about our lit­tle sol­diers, and I just love them so much. They nev­er fail to lift up my spir­its and keep me moti­vat­ed to spread the gospel.
Last Fri­day on our ladies prayer walk, many of our ladies didn't arrive, and so at first we were just two, myself and one of our lead­ing ladies, Domini­ca. At first I was a bit dis­cour­aged, but we had God's busi­ness to attend to, so off we went.
We start­ed singing as we walked, singing is part of our life style here, and before we knew it, we had a whole army of kids fol­low­ing us and singing along. We had our own cru­sade going. It was so cool, and the kids even laid hands on the sick with us. It was spe­cial, and such a con­fir­ma­tion that God is in con­trol and His plans are mighty!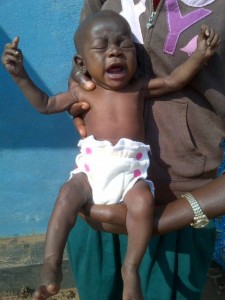 Some­times mom­mies run out of milk, and out here, when a mom­my runs out of milk, the babies have a very slim chance of sur­viv­ing. For­mu­la is real­ly expen­sive, as most of you know, and in a place like Bala­ma, a can of For­mu­las cost a whole pay check. It's so sad.
So we have many peo­ple come to us because we run a baby care pro­gram, and every week we give out for­mu­la to the babies on our pro­gram. It's real­ly awe­some to see God's hand at work in sav­ing all these lit­tle babies.
I've seen some real­ly sad cas­es. Just last week, a very young cou­ple came to get assis­tance from us, her milk had been dried up for two weeks, and by the grace of God, the baby was still alive. We mixed up some for­mu­la right there and then, and she was so weak she could bare­ly drink. But she was hun­gry, so she drank that bot­tle right up.
Anoth­er lit­tle baby that came to us a few weeks ago was lit­tle Ester, when I told you about her she was 2,9 kg's. Well, to give you an update, she is now putting on weight nice­ly, and we see her grow­ing super strong every week. I look for­ward to see­ing her pret­ty lit­tle face, she is so cute. Oh ja, and she has a strong pair of lungs on her.

Anoth­er big per­son­al­i­ty in a small lit­tle body around here is Dick­son! He is a mir­a­cle baby. He was on our baby pro­gram, and start­ed off also as a very under nour­ished baby, he was almost dead. Now he is big and strong and tod­dling around all over the place. He start­ed walk­ing in the last month, and it's so cute how he wad­dles around. He is also quite the card at our ladies devo­tions, when we say Hal­lelu­jah, he shouts "Amen", and it's precious!
And our youngest orphan on the pro­gram has also just start­ed walk­ing. Her name is Orten­cia, and she is the apple of everyone's eyes around here. In fact she doesn't get much chance to prac­tice her walk­ing skills, because every­one takes turns in hold­ing her. You just can't resist her big sparkling eyes, and chum­by kiss­able cheeks though. She is total­ly adorable.
She was brought to us by her grand­fa­ther, she was left with him, but he is too old to be able to look after her. So now she is ours, and we love her to bits. She has a bril­liant fos­ter mom, and five oth­er sis­ters who love her and look after her like she was blood.
We have also just fin­ished food give outs. For the last cou­ple of days, we have been hand­ing out food to the fam­i­lies in our pro­gram at var­i­ous vil­lage dis­tri­b­u­tion points.
This was an awe­some chance for me to see more of what God is doing through orphans unlim­it­ed. Being able to serve the peo­ple in their needs is such a hum­bling expe­ri­ence. We have many elder­ly on our pro­gram, that despite the pain and suf­fer­ing they have faced over years of war and famine, they are as com­i­cal and lov­ing as they come. Yes­ter­day i start­ed devo­tions by lead­ing some songs, and I even got an invi­ta­tion to come and live with them in their vil­lage. Fan­cy that.

My days are filled with many activ­i­ties, every day dif­fer­ent from the next. There is nev­er a day with­out laugh­ter and singing or play­ing. Nev­er a day that goes by where one of my new lit­tle broth­ers or sis­ters don't grab my hands as I'm walk­ing, or nest them­selves under my arm to give them a love. Some­times on a Sun­day morn­ing, while we are walk­ing from the church to Sun­day school, I have about three kids hold­ing each of my hands. It's real­ly fun­ny when you try and walk through a door way with six chil­dren grip­ping your arms!
I miss and love you all so much, with the love of Christ. I pray that the Lord will open your ears to His beau­ti­ful music in your lives. Speak to you all again soon,
MELISSA xox­ox­oxxoxo