From; Bush Bunny Brenda Lange August 3, 2013
BUNNY

AND

STAFF

HOPPING

CAUSE

INSPECTORS

COMING

THIS

WEEK

!

A week ago we received a sur­prise inspec­tion from the State office of Social Ser­vices. They grace­ful­ly brought us a 20 PAGE DOCUMENT con­tain­ing this year's new rules. They gave us warn­ing that a NATIONAL INSPECTION TEAM from Maputo would be at our door on Tues­day, Aug. 6th. We were in com­pli­ance with most of the rules, Praise the Lord!, BUT… did have to have to hang pic­tures in all the hous­es, buy more edu­ca­tion­al toys and a put in a sand box in both hous­es for the lit­tle chil­dren, put in a library in both Eng­lish and Por­tuguese for our High School kids, and add a SECOND moth­er to each home. So it's been a busy week, but we are basi­cal­ly ready for their vis­it. Please keep us in prayer for FAVOR that they will be very hap­py with our program.
BUNNY
PLAYS
BASKETBALL
And has the sore mus­cle to prove it! Our teenage boys need­ed some couch­ing point­ers, as Melis­sa is learn­ing the game her­self. Most of our boys have no idea how to real­ly play the game as a team. Ever see 10 teens going in 10 direc­tions with no coor­di­na­tion what­so­ev­er? That is what I saw, so Coach Bun­ny, who once was an "A" string bas­ket­ball play­er, stepped in teach­ing pass­ing, drib­bling, and lay up drills. This Bun­ny hasn't touched a bas­ket­ball in 38 years, so was amazed at how my brain remem­bered the moves but the body strug­gled to com­ply. Ugh! Bunny's mus­cles weren't ready for a 45 minute coach­ing ses­sion com­plete with demon­stra­tions! But the boys got a real thrill out of it, and learned a lot. I was amazed to see how fast they picked up the need­ed skills. I do plan more of it in the future, but plan to work out more slow­ly the next time.
Goats are doing fine. We have 102 at lat­est count as a few of the males went to mar­ket. The chil­dren are all healthy, and hav­ing a blast with their new sand­box­es, toys, and books. The new Mopone church is get­ting on its feet, after the vil­lage saw the Jesus film. About 45 peo­ple showed up last Sun­day for a church meet­ing. Mpaca vil­lage has had a church for over 4 years, so their response to the Jesus Film has been small so far.
Please remem­ber to keep us in prayer on MONDAY NIGHT for the inspec­tion, as that will be our TUESDAY MORNING here in Bala­ma. We are 7 hours ahead of CENTRAL DAYLIGHT TIME in the USA.
NOTE ABOUT ERIC IN South Africa Eric left a few days ear­ly due to a fam­i­ly emer­gency. His broth­er, who has suf­fered for some time with a type of blood can­cer, had tak­en ill and was in ICU on life sup­port. Eric faced a 5 day dri­ve to get there, but made it in time to say his good­byes before His "born again" broth­er went to meet Jesus.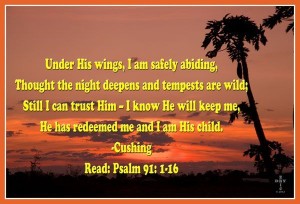 The beau­ti­ful card shown above is from the artist's eye of Eric Dry.
Eric is doing well, and was able to help me resolve a trac­tor prob­lem by phone yes­ter­day. Our trac­tor sucked air into the fuel line, pos­ing a major prob­lem since I didn't know how to bleed the lines and get it run­ning again. Eric patient­ly walked me through it on the phone, and with­in 35 min­utes, we had the trac­tor work­ing again. Please keep Eric and his fam­i­ly in prayer for God's peace and heal­ing as they deal with the loss of his brother.
I love and appre­ci­ate ALL OF YOU, and please know that your prayers DO MAKE A DIFFERENCE in what goes on over here. Thanks for all you do so that our chil­dren may have a hap­py life full of love, and a good education.
P.S. Lin­da Stan­ley will be fly­ing to South Africa (RSA) on Sat­ur­day, Aug. 10th, to be with Eric a few days before she flies on to the USA the fol­low­ing Tues­day night. Lin­da tells us that God has lift­ed her call­ing to Bala­ma, so she does not plan to return to us. We are VERY grate­ful for her serv­ing heart and all she has taught our mis­sion­ary team and the chil­dren in the 3 years she's been with us in Bala­ma. We will miss her more than words can describe.

Lin­da Stan­ley and one of the chil­dren. She express­es the lov­ing heart of Jesus, as she speaks "Com­fort", to each one of us in this photo.
BLESSINGS IN CHRIST, Bush Bun­ny Bren­da Lange and the Bala­ma staff Lin­da Stan­ley Melis­sa Olmsdahl