From: "Brenda Lange" Subject: Blog, May 4, 2013
BOUNCING

BABY

GOATS

KEEP

BUSH

BUNNY

HOPPING

!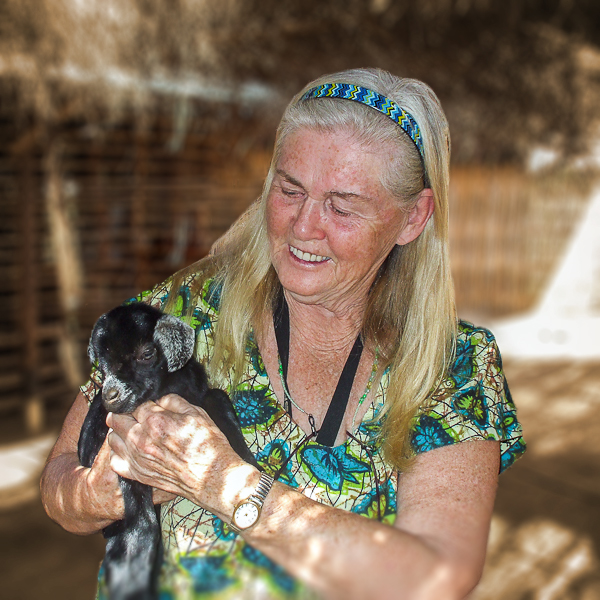 Bun­ny just got in from our goat farm, where 117 Orphans Unlim­it­ed goats now live. I was out there tak­ing care of baby goat num­ber 8 for this week. On Thurs­day, the mater­ni­ty ward of BOTH barns were lit­er­al­ly over­flow­ing with bounc­ing baby goats, all going BAAAA… as they chased after their mobile baby bot­tles! SIX Baby Goats were born in 20 hours on Thurs­day. #6 was dropped into this world as I watched. #7 and 8 arrived on Fri­day. Fri­day, I was accom­pa­nied by Lin­da Stan­ley, who got to cud­dle one of the fuzzy lit­tle ones, as they are so soft and cute when only a few days old.
With­in the first 24 hours after the birthing process, each moth­er goat receives a dose of de-wormer med­ica­tion to pre­vent ane­mia from 1000's of blood suck­ing stom­ach worms that are sig­nalled to hatch due to hor­mon­al changes dur­ing the birth process. Stom­ach worms are the #1 killer of goats, and our adult goat death rate has been zero since start­ing this rou­tine. It's less trips on me when they all "bin­go" on the same day, but it does stress the goat staff a bit. The babies stay in the nurs­ery with their momma's for 3–5 days before join­ing the herd. This gives the babies time to strength­en their legs and learn to run beside their mom­ma when in the pas­ture. One man is assigned to do noth­ing but nurs­ery duty when the birth rate is so high. Those first 24 hours are crit­i­cal if a weak goat is to be saved. PTL most of ours are born strong and healthy.
ORPHAN
BABIES
ALSO
ON
THE
RISE
NINE new orphaned babies were admit­ted to our pro­gram in the last 7 days. This is sad news, because it means that their mom­mas per­ished after giv­ing birth. Lin­da Stan­ley, and Nilza have been kept busy teach­ing new moth­ers how to boil water, clean baby bot­tles, mix for­mu­la, etc. These are things we take for grant­ed, but which these grand­moth­ers have nev­er been exposed too. These grand­moth­ers grew up in 30 years of war, where a baby who lost its moth­er was doomed, as no for­mu­la or baby bot­tles exist­ed. So learn­ing to bot­tle feed a baby is quite a chal­lenge to some of them, espe­cial­ly when they've nev­er heard of germs!
MY BLOGS MAY BE A BIT SHORT the next few weeks. Tomor­row we kick off the "pub­lic bean buy­ing" pro­gram. I spread the word last week that I'd buy beans brought to our ware­house. We have sub­mit­ted doc­u­ments request­ing per­mis­sion to buy ear­ly (before June 1st) in bulk from the vil­lages. We hope to receive a pos­i­tive answer this week. But in the mean­time, I'm free to buy what­ev­er is brought to my door. SO OUR THEME SONG IS "Bring­ing in the beans, bring­ing in the beans. We will go a prais­ing, bring­ing in the beans!" All that is sung to the well-known hymn, "bring­ing in the sheaves". We need all the beans the pub­lic can spare if we are going to feed orphans this year.
Bless­ings from Bren­da, Lin­da, and Eric in Balama