From: Linda Ferguson, for" Bush Bunny Brenda" Date :, July 27, 2013
Hello to all of the faithful supporters of Orphans Unlimited, Inc.
This email blog is com­ing to you from Lin­da Fer­gu­son in our Texas office. I am the per­son who's name appears at the very bot­tom of your week­ly Bush Bun­ny Bren­da Blog.
Bren­da is in Pem­ba today and did­n't write a Blog entry before she left the Mis­sion Head­quar­ters in Bala­ma. Because of the jam packed sched­ules of the staff, Bren­da was the only one avail­able to deliv­er the team from Michi­gan back to the air­port for their flight home.
The Go Pro­jec­t's team of Sal­ly Dyke­ma and Dale Mein­derts­ma have been busy help­ing bring in the har­vest, both of corn and of souls. We will have details of their adven­tures soon.
But while "The cat is away.…. this mouse" thought you might enjoy see­ing some pho­tos that rep­re­sent a typ­i­cal, pow­er packed, "day in the life".. of The Bush Bunny.
Brenda Caring for a babe in mother's arms- a daily sight.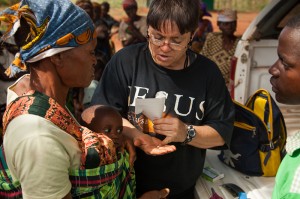 These starving children were rescued from sure death by their Grandmother, who walked many miles,not knowing if she would find help.

Wor­ship ser­vice looks like lots of fun. The pup­pets are a favorite of both chil­dren and adults.

The wheelchair and the crutches were such a happy surprise. As you can see by the beautiful smiles.

Brenda shows us a stick with cord wrapped around it and beetles in bright colors attached. This tool of the witch doctor was given to her by the woman who was saved and baptized. The former witch doctor hut was burned as a testimony to a life changed by the grace of God.
We couldn't end the day without checking in on the goats. Sure enough, there's Brenda and one of the goat team busy worming a reluctant volunteer.