FROM

"

BUSH

BUNNY

BRENDA

"

DATE

:

AUGUST

2, 2014
BUNNY
AND
THE
BLAZERS
FORGING
AHEAD
HAPPY doesn't come close to describ­ing how our team felt when we com­plet­ed the corn buy­ing on Wed.! Our ware­house is "full, full" as our Moz. work­ers put it (one of the few Eng­lish words they know). When you walk through the dou­ble doors of our corn ware­house, you are total­ly sur­round­ed on 3 sides by 300+ TONS of corn stacked 13 sacks high, as they "pil­lars of corn" now touch the 12 foot rafters. The 72 men who made this pos­si­ble went home with a smile on their faces and cash in their pock­ets, as 50 of them don't have reg­u­lar work. The corn chutes and all the pro­cess­ing equip­ment is packed away until next year. Thanks to many gen­er­ous donors, the 3 woman Bala­ma Blaz­er team, and our 72 man crew, anoth­er suc­cess­ful food buy­ing sea­son is behind us.
"

DIAL

A

MECHANIC

"

SAVES

THE

DAY

!

On Tues­day, Manuel was to haul in corn, and then have his truck loaded with 4 tons of beans for the orphan ware­house in Melu­co. As he pulled into the Bala­ma weigh­ing sta­tion with his load of corn, his face told me some­thing was wrong. He had lost air pres­sure in the front air brake tank (mean­ing brak­ing was VERY slug­gish). OH NO! The truck must have an air leak. My heart sank, as I knew the Melu­co trip was in dire jeop­ardy. The men unloaded the 5 tons of corn as Manuel and I went over the air-lines with lis­ten­ing ears, look­ing for the leak. Found it! One of the air cylin­ders on the rear axle was hiss­ing air in a high pitched squeal from a pin hole around it's con­nect­ing nip­ple. Whip­ping out my trusty cell phone, I had Eric Dry, our South African "DIAL A MECHANIC" part­ner on the phone in sec­onds. Eric con­firmed that the pin hole should be repairable, and told me where to find the "STEEL EPOXY" in our work shop. This stuff makes super glue look like sil­ly put­ty, as it lit­er­al­ly becomes LIQUID STEEL when the con­tents of the 2 tubes are mixed togeth­er. (When mixed, you bet­ter hop fast, cause you have only 3 min­utes before it hard­ens!) If this didn't stop the leak, then 50 orphans were going to go hun­gry in the game reserve as they eager­ly wait­ing for our food drop on Thurs­day. Too much rain at the wrong time and hun­gry baboons had done a num­ber on the food they plant­ed in their fields this year. The alter­na­tive was to take the truck into Pem­ba, 4 hours away, in hopes of find­ing the need­ed part and get­ting it replaced. (Could take days or even weeks if the part wasn't avail­able!) The glue was mixed, the hole fixed, and after a 2 hour wait, the glue was dry. Manuel fired up the truck and the air pres­sure began to build. It was a sweet sound when the tank filled, and no HISS was heard from the repaired cylin­der. The truck was ready to be loaded for the food drop!!!! PTL!!!!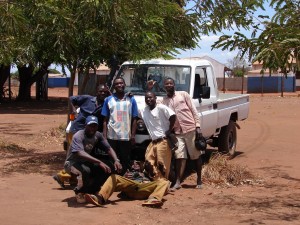 Thanks to Eric and Manuel, the food was delivered.
Manuel made the food drop with­out com­pli­ca­tions on Thurs­day, and a bunch of chil­dren waved good bye with big smiles on their faces. Those children's needs are met now for the next 8 weeks. PRAISE THE LORD, AND THANK YOU ERIC, and our truck team for mak­ing this a suc­cess sto­ry instead of a heart break.
NACALA
ORHANS
WITH
BROKEN
WATER
WELL
Clean water from the repaired water well brings smiles all around.
Manuel, the only man who has been with me for the full 15 years I've been in Bala­ma, is now our main mechan­ic and water well repair­man. Thanks to Eric's train­ing, Manuel and his mechan­i­cal skills has now become the local hero to the 27 orphans and wid­ows we now sup­port in the vil­lage of Nacala. Ear­ly this a.m. I received a call from Pas­tor Salazar, who heads up the 4 fos­ter moth­er homes in Nacala which hosts 24 orphans (includ­ing the 7 chil­dren that were sur­viv­ing on their own before we gave them a help­ing hand). The vil­lage water well had bro­ken, and they des­per­ate­ly need­ed it repaired as the local "hand dug wells" are all going dry. Cholera sea­son is just around the cor­ner, and dysen­tery is start­ing to attack many of those who get their water from hand dug wells. Sat­ur­day is Manuel's day off, and he was try­ing to find parts to repair his motor­bike so he could attend the wed­ding of a local Pas­tor about 14 miles away. I offered to loan him our motor­bike, if he'd come fix the well instead. He glad­ly did so, and upon his return, he told me that the whole vil­lage turned out to watch his team repair that well. When the water start­ed flow­ing, the vil­lagers broke out in loud cheers with danc­ing in cel­e­bra­tion of clean water! They wast­ed no time, as eager hands began pump­ing as fast as pos­si­ble to fill everyone's con­tain­ers. Such are the rewards of serv­ing the Lord, for He bless­es those who put oth­ers first. JESUS' LIGHT NOW SHINING BRIGHT IN NAMUNO COUNTY I'll tell you more as the sto­ry unfolds, but our 2 sis­ter church­es in the coun­ty to the south of us, are hav­ing a revival! The 2 Pas­tors that guide these flocks are sup­port­ed by Hine­ston Taber­na­cle, in Hine­ston, LA. This week both Pas­tors ped­alled over 25 MILES through the bush to ask us for Bibles and teach­ing tracts, as those hun­gry for Jesus were eager to know more! Jesus said that in the last days, many peo­ple in "out of the way (rur­al) areas" would expe­ri­ence HIS LOVE and seek the truth about HIM. Looks to me like that "time" has begun.
God's sav­ing grace reach­es into the remote area of Namuno coun­ty, Mozambique
KATIE FLIES TO SOUTH AFRICA ON MONDAY… For she has com­mit­ted to stay a year to help the orphans and all that rais­ing chil­dren entails. The first step in get­ting a 1 year res­i­den­cy per­mit is to fly out of the coun­try to obtain a res­i­den­cy visa. Eric will host her and help her shop so she can return with a suit­case full of much need­ed items we can't get here. She'll be in RSA from Mon­day to Fri­day, so we warned her to not eat too much ice cream while down there! That's the news from Bun­ny and the Blaz­ers this week, so know that we love and appre­ci­ate all of you for mak­ing it pos­si­ble for us to show Jesus' love to these chil­dren in a very real way.
LET THE FOOD DISTRIBUTIONS BEGIN!
Bless­ings from: Bush Bun­ny Bren­da Lange Katie Pol­cyn Han­na Gilman Ash­lynn Grabill