FROM

"

BUSH

BUNNY

BRENDA

"


DATE

:

AUGUST

8, 2020



SNEAKY

SNAKE

GETS

CAUGHT



I was walk­ing near my dog pen when I saw a snake track that left the dog pen and returned onto itself after a few yards. It was fresh, cause I had walked that same area just a few min­utes before. Mean­ing: snake is near­by. Call­ing my guard, I began to look for it when my mechan­ic yelled "

STOP

! It is in the fence!".

Sure enough, while I'm look­ing on the ground, the snake went

UP

, tan­gling itself in the chain-link fenc­ing try­ing to get away from me on the out­side and the 2 dogs on the inside.

The video says it all as to what hap­pened next. With a 99.9% poi­so­nous rate in the snakes of this area,

THE

ONLY

GOOD

SNAKE

,

IS

A

DEAD

SNAKE

!

https://youtu.be/5QYzaPG7Pc8

Weath­er is warm­ing up, so 2 snakes in 8 days means time to be on the alert again.

JOY

! I am very grate­ful for sharp eyed work­ers and pro­tec­tive Angels.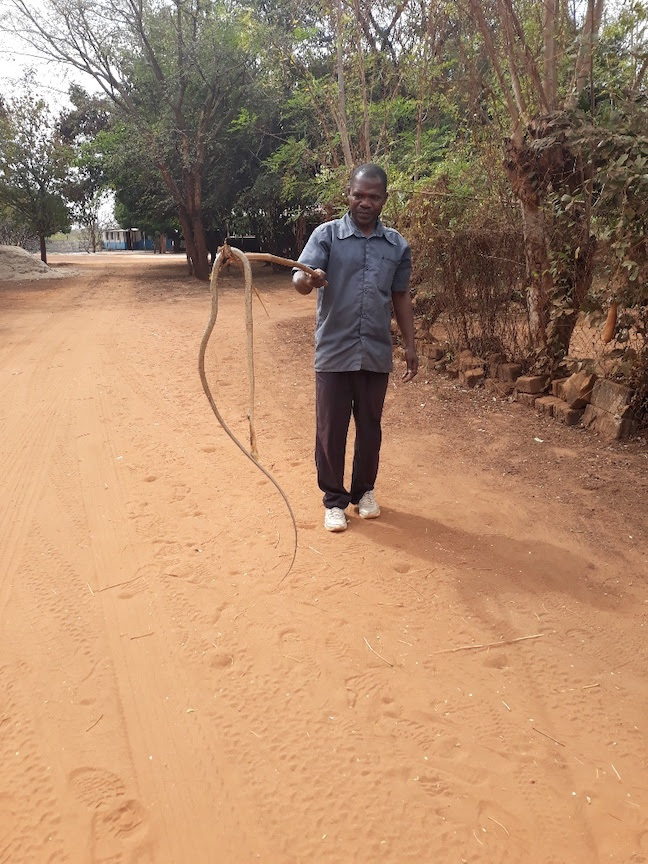 Sneaky Snake lost the bat­tle.



LOCAL

MOTHER

BIRTHS

BABY

AFTER

SEVERE

ACCIDENT



Mar­ti­na, 3 months preg­nant, was being giv­en a lift by her Uncle on his bicy­cle when he lost his bal­ance, caus­ing them to have a severe fall. Mar­ti­na suf­fered a frac­tured femur (right leg) which put her in hos­pi­tal for months.

Her baby boy, Alberti­no, was born 6 months lat­er in per­fect health. The hus­band aban­doned her dur­ing this time, leav­ing her 2 oth­er boys, ages 6 and 8, with her sis­ter, Vir­ginia.

Due to her poor health, Martina's breast milk dried up com­plete­ly a few days ago, leav­ing 11 week old Alberti­no with noth­ing to eat. The local hos­pi­tal sent her to us for assis­tance. Car­ried to our mis­sion sta­tion on a friend's motor­bike, Mar­ti­na walked with the aid of crutch­es to bring her baby to us.

Her sis­ter, Vir­ginia, has moved in with her as the 2 boys are too young to do all the house­hold work, plus care for the infant's needs. The fam­i­ly had only star­va­tion foods avail­able to them, as their farm pro­duced noth­ing this year since no one was there to attend the fields.



Aunt Vir­ginia hold­ing baby Alberti­no with moth­er, Mar­ti­na.​

Jesus sent our group to this area so that oth­ers might live and know
Him.

YOUR

LOVE

GIFTS

are pro­vid­ing the

LOVE

OF

JESUS

plus the milk and food this fam­i­ly needs so that they have a chance to regain what they have lost in the last year.

THANK

YOU

FOR

MAKING

THIS

POSSIBLE

.




PASTOR

'S

REPORT

FOR

JULY





SALVATIONS

in our home church­es through­out 2 Dis­tricts:
31 Adults
14 Teenagers
71 chil­dren
Our church­es will be allowed to open lat­er this month but only 50 are allowed to attend at once. I will be orga­niz­ing the Pas­tors with large church­es to have more than 1 meet­ing so that every­one can attend.

The

BBC

motor­bike and bicy­cle teams are still restrict­ed because the crowds of chil­dren they attract num­bers more than 50. Keep pray­ing for Mozam­bique as they begin a 3 month "reopen­ing" of their infra­struc­ture. Schools may not reopen until Oct. 1st if all goes accord­ing to plan.



BLESSINGS

,


BUSH

BUNNY

BRENDA

LANGE




AND

THE

BALAMA

STAFF