FROM

"

BUSH

BUNNY

BRENDA

"


DATE

:

DECEMBER

12, 2020



BABY

FATIMA

JOINS

OUR

FAMILY



Orphaned Fati­ma was brought to us last Fri­day by her Grand­moth­er and Uncle from a vil­lage almost 30 miles/50km into the Bush from Bala­ma (on foot). This tiny infant looked like a pre­ma­ture new­born, but her doc­u­ment said she was exact­ly 90

DAYS

OLD

, weight­ing only 2kg/4.4 lbs.,

AND

WAS

OBVIOUSLY

SICK

!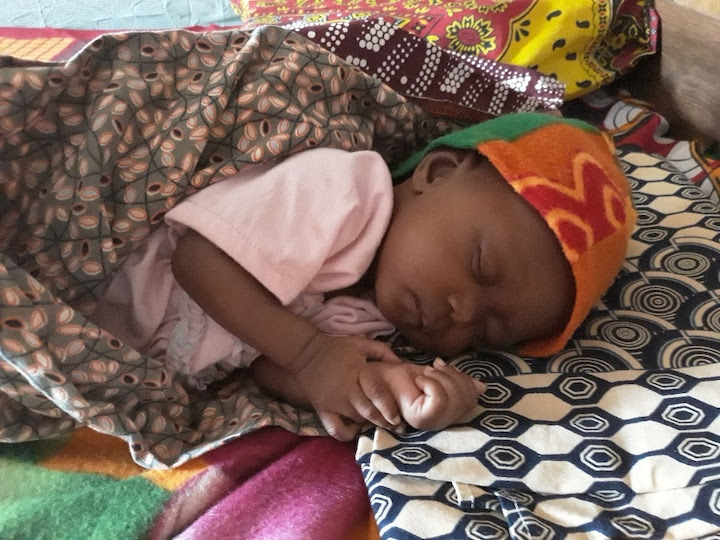 Baby Fati­ma eats hourly, then sleeps sound­ly.​

My Chil­dren's Direc­tor, Anna, and I ush­ered them into my King­cab, and drove them quick­ly to the Bala­ma Hos­pi­tal. The hos­pi­tal staff was

SHOCKED

at her age and weight, so wast­ed no time get­ting blood for a malar­ia smear, then start­ing an

IV

for med­ica­tion.

Fati­ma is 1 tough lit­tle girl, as she recov­ered rapid­ly from her malar­ia, but stayed in hos­pi­tal a full week to receive a spe­cial mal­nu­tri­tion for­mu­la. Rav­en­ous with hunger, she drank a tremen­dous amount dai­ly, gain­ing 2.2 lbs./1kg dur­ing her 7 day stay.

Fati­ma's Uncle real­ized the very elder­ly Grand­moth­er could not prop­er­ly care for Fati­ma, and request­ed Social Ser­vices to allow her to live with us. Both her par­ents are deceased, and it is obvi­ous to all that Fati­ma needs extra atten­tion if she is to sur­vive.

Plz pray for this lit­tle girl, for she will need at least 4 months of good nutri­tion and care to achieve a nor­mal weight for her age.

Fati­ma needs a $30/month spon­sor as soon as pos­si­ble. This lit­tle tyke can eat!




BABY

NELITA

MEETS

JESUS



With a sad heart I must announce that 1 yr. old Neli­ta is now with the Lord Jesus. Neli­ta con­tract­ed malar­ia last Sun­day, Dec. 6th.



Baby Neli­ta back on Novem­ber 7, 2020. Hap­py, healthy, and enjoy­ing her new toy tele­phone.

The nor­mal malar­ia treat­ment seemed to be help­ing her by Mon­day, but ear­ly Tues­day it was evi­dent she was get­ting worse. We rushed her to the hos­pi­tal, where she was admit­ted imme­di­ate­ly, with

IV

anti-malar­ia meds start­ed with­in min­utes.
Lab analy­sis showed that the malar­ia was attack­ing her liv­er and red blood cells. She was very ill with a crit­i­cal hemo­glo­bin of only 6. (Nor­mal is 12–14).

Blood was giv­en, but the liv­er fail­ure was too far advanced, and she grad­u­at­ed to heav­en at 7pm Thurs­day night.

We miss her very much, but are hap­py she now has a per­fect body, and can hap­pi­ly play with the oth­er chil­dren in heav­en.

The loss of Neli­ta has real­ly upset the fos­ter moth­ers and chil­dren in house num­ber 6. Please keep them in prayer as they go through the griev­ing process.




BUSH

BUNNY

TIDBITS



1. Our chil­dren enjoy play­ing soc­cer between rains.


https://youtu.be/hpu4Cunw8ck
School age chil­dren enjoy­ing fun between rains.

2. Rainy sea­son offi­cial­ly began this last week with 6 days of light rain.

3. House # 7 rush­ing towards com­ple­tion. Jan­u­ary open­ing looks very promis­ing.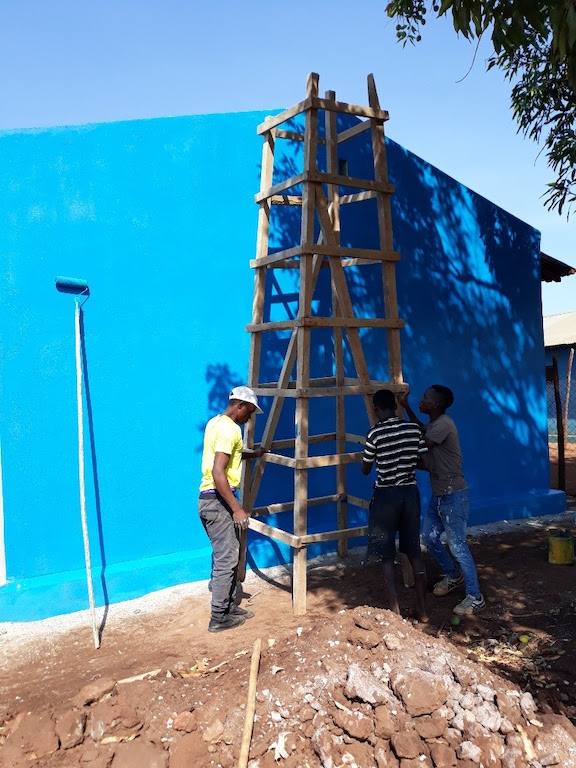 House #7 paint­ing in progress between the rains.

Final cement work near­ing com­ple­tion.​



BLESSINGS

TO

YOU

ALL

!


BUSH

BUNNY

BRENDA

LANGE




AND

THE

BALAMA

STAFF