FROM "BUSH BUNNY BRENDA"
DATE: MARCH 3, 2018
IT TAKES A VILLAGE
Car­ing for the needs of 100+ orphans and their 30 sub­sti­tute moth­ers (wid­ows), is a big job that can't be done with­out mas­sive team work. Our small staff of 7 have mul­ti­ple duties and every­one pitch­es in to do "what­ev­er it takes" to keep the chil­dren healthy and happy.

Wom­en's Pas­tor Domini­ca help­ing cook lunch on our super size rock­et stove because a moth­er is sick.
Pas­tor Fred and our guard repair a localy made "rope" bed for a orphan in the village.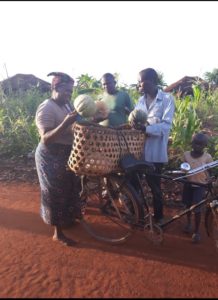 Fos­ter Moth­er Bal­bi­na "shop­ping" for pump­kins. She calls oth­er moth­ers to come buy when she finds a bargain.
Fos­ter Father Esteven and Granny Ati­ja show­ing off the gar­den that their orphans helped them make. GARDEN SEEDS a gift from Syrah/Twigg employ­ees (graphite mine) at Christmas.
YOU CAN HELP OUR ORPHANS BY SHOPPING SMILE.AMAZON!
(no cost to you)
Orphans Unlim­it­ed is reg­is­tered with SMILE.AMAZON so that our part­ners who shop AMAZON could ben­e­fit our chil­dren with every pur­chase at NO EXTRA COST. THANK YOU to all of you who now par­tic­i­pate for our chil­dren are ben­e­fit­ing! You "went the extra mile", and this Ama­zon check is now help­ing us to help the children.
Those checks could real­ly grow if our part­ners and those they know would shop at SMILE.AMAZON. Your fam­i­ly, friends, and fel­low work­ers at your com­pa­ny could part­ner with us at no cost to them just by doing their reg­u­lar Ama­zon shop­ping and link­ing to Orphans Unlim­it­ed through the Amazon.Smile program
FROM MARCH 12 TO 31ST, SMILE.AMAZON will TRIPLE their dona­tion on your first purchase.
At SMILE.AMAZON you find the exact items/low prices you do at Amazon.
Dif­fer­ence: Ama­zon just donates a por­tion of the pur­chase price to your cho­sen char­i­ty, at no cost to you.
Your exist­ing Amazon.com account works on SMILE.AMAZON. Your shop­ping cart, Wish List, wed­ding or baby reg­istry, and oth­er account set­tings are also the same.
TO BENEFIT ORPHANS UNLIMITED CHILDREN
Go to: smile.amazon.com/ch/04–3717267
if you don't like click­ing links, go to Amazon.com like you nor­mal­ly do and search for Ama­zon­S­mile. You'll find direc­tions for search­ing for us, Orphans Unlim­it­ed, and choos­ing us as your charity.
Then just remem­ber to do your nor­mal Ama­zon shop­ping through their Smile por­tal and we will get a small por­tion of what­ev­er you spend. It is com­plete­ly anony­mous and Ama­zon won't tell us what you bought or even WHO is link­ing us to their pur­chas­es. It's just a love­ly, anony­mous sur­prise check for our kids!
TOGETHER, WE ARE MAKING A DIFFERENCE TO OVER 2000 ORPHANS DAILY.
BLESSINGS,
BUSH BUNNY BRENDA LANGE
AND THE BALAMA STAFF