FROM

"

BUSH

BUNNY

BRENDA

"


DATE

:

MAY

22, 2021



ALFERES

SAVES

A

LIFE

!

Wednes­day, 4:30pm, I hear a yell. "

BABY

IN

TROUBLE

!" Leav­ing my kitchen, I see Alferes run­ning to my house while cradling a small bun­dle in his arms. I hur­ried him into my house, instruct­ing him to put the baby on the table inside my door, and remove her clothes.



TWENTY-MONTH-OLD

BABY

ANGELINA

from the Gazelle house was suf­fer­ing a full-blown febrile seizure, (eyes rolled back, limbs stiff, con­vuls­ing, and not breath­ing). Her skin was super hot!

As Alferes removed her clothes, I plunged my bath tow­el into a bar­rel of water in my near­by bath­room. Cov­er­ing her body with that cool tow­el imme­di­ate­ly began low­er­ing her body tem­per­a­ture. Alferes stayed with her as I soaked 2 more tow­els to help cool her down rapid­ly. We had to bring down her tem­per­a­ture quick­ly to break the seizure so she could breath!

By that time Angeli­na's Fos­ter Moth­er, Bal­bi­na, had reached my house cry­ing hys­ter­i­cal­ly (think­ing her fos­ter baby was sure­ly dead). As Alferes and I wrapped Angeli­na in the cool tow­els, the seizure broke. I ordered Bal­bi­na to get into my King Cab pick-up as
Alferes got in, hold­ing the now breath­ing Angeli­na. Domini­ca, our Wom­en's Pas­tor, jumped in to pro­vide emo­tion­al sup­port as I backed out to take her to the hos­pi­tal.

With flash­ers blink­ing, and honk­ing my horn to clear traf­fic, we arrived at the hos­pi­tal in 2 min­utes with Angeli­na

CRYING

LOUDLY

! Music to my ears, for it meant

SHE

WAS

BREATHING

JUST

FINE

!!!

A malar­ia quick test in the

ER

proved

POSITIVE

in less than 2 min­utes! As the tech­ni­cian looked for a vein to start the

IV

meds that would kill the malar­ia lar­vae, he saw noth­ing! I raced to fetch Sis­ter Lisha at her home, as she is the best Pedi­atric Nurse they have. But Sis­ter Lisha also found no viable vein due to Angeli­na's rapid dehy­dra­tion from the high fever.

The deci­sion was made to give the malar­ia meds via injec­tion into her but­tocks (rarely used)

BUT

IT

WORKS

! Her fever began decreas­ing, and she began drink­ing an oral elec­trolyte solu­tion that would rehy­drate her body.

Dehy­dra­tion helps the malar­ia lar­vae to kill the kid­neys quick­ly, caus­ing the urine to turn black, thus malar­i­a's nick­name "black water fever".

The Emer­gency Room that night was full of par­ents with infants suf­fer­ing from malar­ia, which is ram­pant right now.

PTL

that the cool­er tem­per­a­tures have begun, which will decrease the num­ber of malar­ia mos­qui­toes in our area.



WE

PTL

THAT

ANGELINA

WAS

SAVED

THAT

NIGHT

,

AS

WELL

AS

THE

OTHER

INFANTS

WE

SAW

TREATED

WHILE

IN

THE

ER

.

The Dr. allowed Angeli­na to come home the next after­noon, with strict instruc­tions to com­plete the 3‑day treat­ment of Coartem, and pro­vide twice-a-day liq­uid vit­a­mins with iron, as her hemo­glo­bin had dropped dur­ing the night to bor­der­line low. We are giv­ing her all she needs and she will be retest­ed in 7 days to make sure her Hemo­glo­bin is ris­ing.



ALL

OF

US

WERE

PRAYING

dur­ing this entire time,

THANKING

JESUS

for his mir­a­cle life sav­ing love for our lit­tle Angeli­na.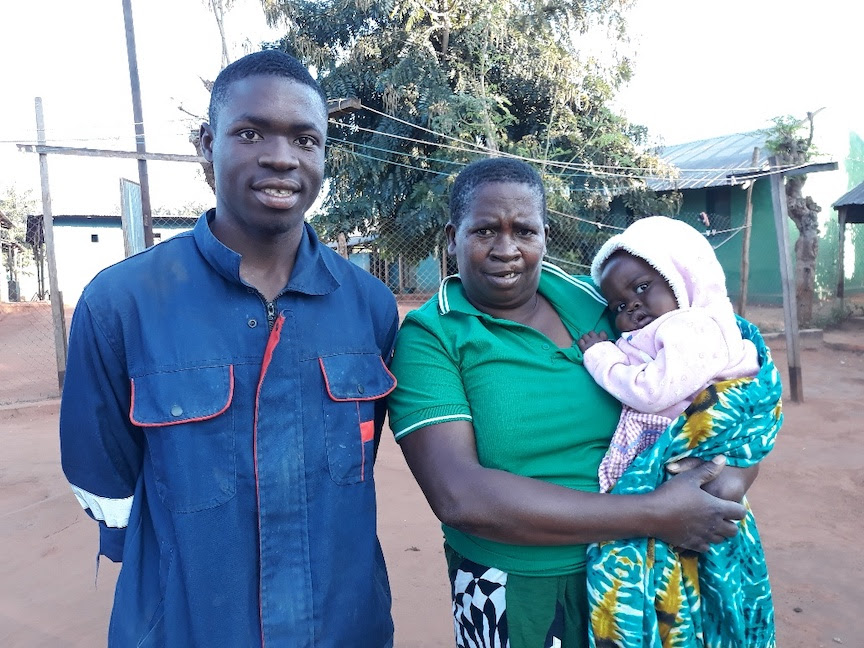 Hero Alferes, with Bal­bi­na and baby Angeli­na 2 days after her seizure​




THE

REST

OF

THE

STORY



The next day, I asked Alferes how he encoun­tered the sick baby.

He told me that Bal­bi­na was cry­ing and try­ing to run with the baby to my house when she became short of breath near our soc­cer field. Alferes was play­ing soc­cer when he spot­ted Bal­bi­na. Angeli­na was seizur­ing, so he just grabbed her and ran for my house (about 200 yards/meters away).



PRAISE

GOD

FOR

HIS

QUICK

THINKING

, for it helped us break her seizure before she suf­fo­cat­ed!



KIDS

SAVING

KIDS

!
I

LOVE

IT

!

Right after food buy­ing, I plan to teach a sim­ple First Aid/

CPR

class to our teens. We are giv­ing a crash course on malar­ia seizure treat­ment next week to our Fos­ter Moth­ers, as that can't wait.

Alferes react­ed cor­rect­ly, but many of our teens told me they would not know what to do if some­one was real­ly hurt or hav­ing a seizure.

It is fact that many a child or teen has saved a life because some­one showed them what to do when they see some­one is in dis­tress.

As a cer­ti­fied instruc­tor in both First Aid and

CPR

from my col­lege days, it is time I shared that knowl­edge with our chil­dren.



THANK

YOU

FOR

HELPING

US

TO

HELP

OTHERS

.



BLESSINGS




BUSH

BUNNY

BRENDA

LANGE




AND

THE

BALAMA

STAFF