FROM

"

BUSH

BUNNY

BRENDA

"


DATE

:

NOVEMBER

7, 2020



BABY

QUISTON

JOINS

OUR

FAMILY



Begin­ning to look like a baby nurs­ery in all 5 of our chil­dren's homes for young chil­dren. With 8‑month-old Quis­ton (Key-ston) join­ing our fam­i­ly on Thurs­day, we now have 11 babies in our care.

Quis­ton's Granny has strug­gled since May to han­dle this lit­tle boy, as she is elder­ly her­self and the youngest fam­i­ly mem­ber remain­ing. Know­ing she did not have the means or ener­gy to raise him, she released him to us as he was sick with an upper res­pi­ra­to­ry infec­tion.



Baby Quis­ton in arms of Grand­moth­er.

He's very small and under­weight, 4.6kg/10 lbs., 8 months old, born March 3, 2020. This lit­tle man is tough, and doing much bet­ter after 3 days of med­i­cine for his res­pi­ra­to­ry infec­tion.

God already answered our prayer for a spon­sor through a Chris­t­ian School in Okla­homa. I am always encour­aged when some­one emails to say they would like to spon­sor a baby, for that is what hap­pened in this case. The spon­sor wrote the same day we received

QUISTON

.

Coin­ci­dence? No way! That's God!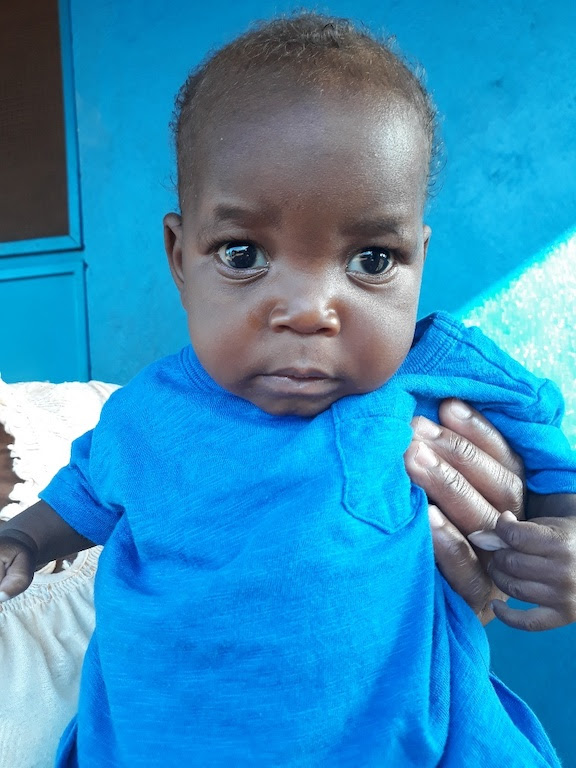 Baby Quis­ton feel­ing much bet­ter after 3 days of med­ical care.​

All our chil­dren need your prayers, and we are grate­ful for it.

THANK

YOU

TO

ALL

OUR

SPONSORS

who make it pos­si­ble for our chil­dren to have their needs met.




BLOCKED

BRIDGE

DELAYS

DELIVERY​



Manel and his team took off at 4 a.m. Wednes­day to take a load of corn to the Melu­co orphans. They trav­elled well until 30 km (18 miles) from Melu­co town, where the team encoun­tered a bro­ken down log truck block­ing a one way bridge. No one knew when the truck would be repaired, as it was too heavy with its log load to be towed.

No car or truck could pass, and no alter­na­tive road exists, so Manel hiked up onto a near­by hill to get phone sig­nal to call me. I gave the order to turn around and come home, for the area they were in was a known ele­phant cross­ing as well as home to oth­er dan­ger­ous "crit­ters".



Mas­sive log truck block­ing the road on Wednes­day.​

By 8 p.m. that night, the team was safe­ly back at our base. The fol­low­ing after­noon, we were delight­ed to hear that the truck had been moved, and traf­fic was flow­ing. Our team pre­pared the truck and took off at 4 a.m. Fri­day, suc­cess­ful­ly deliv­er­ing their load to the Melu­co orphan sta­tion. They are on their way to Bala­ma as I write.

Dai­ly, we face many unknowns in the res­cue work we do to save vul­ner­a­ble chil­dren.

YOUR

PRAYERS

do more to help us than you will ever know while on this earth.

PLEASE

KEEP

US

COVERED

IN

PRAYER

. Our last food truck of the year will leave Mon­day for Melu­co. It essen­tial that this food be deliv­ered before the heavy rains begin this month.

THANK

YOU

!




BABY

NELITA

THRIVING



Baby Neli­ta is a true tes­ti­mo­ny of how well our moth­ers care for mal­nour­ished infants. Neli­ta's immune sys­tem was com­pro­mised and she was in a severe­ly mal­nour­ished state when she came to us 1 year ago.

Med­ical per­son­nel were skep­ti­cal that she would sur­vive.

WITH

LOTS

OF

PRAYER

FROM

ALL

OF

YOU

, and in con­junc­tion with our lov­ing fos­ter moth­ers, God raised her up! She is now walk­ing short dis­tances and play­ing out­side with oth­er chil­dren. Her immu­ni­ty has returned in force!



Baby Neli­ta thriv­ing after almost los­ing her life.​

Her favourite game is talk­ing to oth­ers via her toy tele­phone.

THANK

YOU

FOR

YOUR

POWERFUL

PRAYERS

TOWARDS

THIS

LITTLE

ONE

.



BLESSINGS

,


BUSH

BUNNY

BRENDA

LANGE




AND

THE

BALAMA

STAFF