FROM

"

BUSH

BUNNY

BRENDA

"


DATE

:

JANUARY

30, 2021



INSIGHT

INTO

RAINY

TIME

ACTIVITIES



A month behind us and

PTL

our chil­dren are safe, healthy, and hap­py. Today, Jan­u­ary 30th, marks the mid­dle of the rainy sea­son. It rained most of the night, and heavy, grey rain clouds still hang over­head. Our 3‑man milling team rush to mill 1.1

TONS

, or 23 sacks of corn so our hun­gry "mob" of 200+ kids can eat this week.

The teenage boys are up crack of light (5 a.m.) because dawn nev­er came. They grab their hoes and rush to fin­ish weed­ing 1 of 3 fields they have now plant­ed with Juko beans, for all can see more rain is com­ing.

As the boys approach the tree line at the edge of their field, a shout rings out! A 2 foot/60cm Adder has been spot­ted, ready to strike.



Celesti­no's first kill last Thurs­day. I am thrilled he saw it before it saw him!

An Adder is a rat­tlesnake with­out the rat­tle. We call it 'Sneaky Snake' as it gives no warn­ing, and its ven­om sack guards the same dead­ly poi­son as the Amer­i­can rat­tler. No ant-ven­om exists in our area, mak­ing a bite dif­fi­cult to treat.

The adder can strike both for­ward and back­wards. Its favourite trick is to lie hid­den next to a trail and strike with light­ning speed when a rat, or per­son walks by.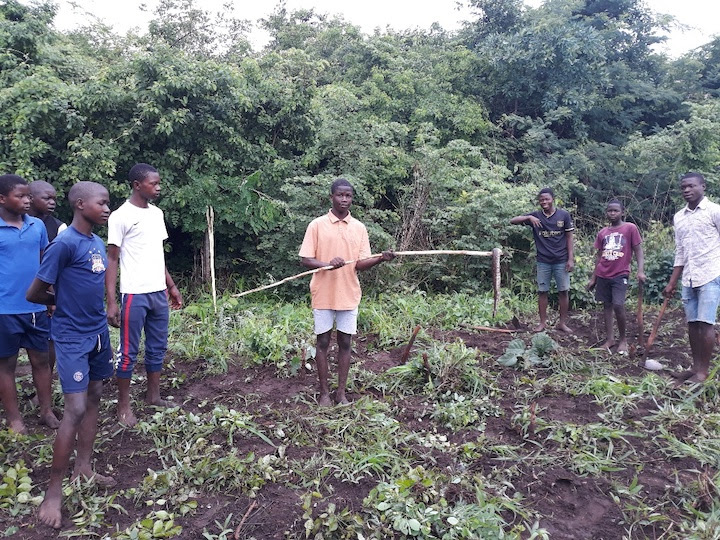 Celesti­no's 2nd kill, today



SO

GLAD

OUR

BOYS

ARE

"

BUSH

WISE

"

AND

ALERT

TO

THEIR

SURROUNDINGS

. This is the 2nd Adder they have put an end to in their fields this last week. Celesti­no, is the brave one of this group as he is the expe­ri­enced snake killer who took out both snakes this week.




FARMING

IS

A

FAMILY

AFFAIR



Our wid­owed grannies not only teach farm­ing to their orphaned "live in" grand­chil­dren, but also invite oth­er fam­i­ly mem­bers to help in their fields. Many hoes makes the work load lighter!



7‑year-old help­ing out her Granny

The lit­tle girl in the pho­to is about 7, and a prime exam­ple of an extend­ed fam­i­ly help­ing out their Granny. She not only looks after her lit­tle sis­ter, but picks Moringa leaves to spice up Granny's mid­day meal. It is great to see fam­i­lies join­ing forces so that all may have food on their tables.



View of our train­ing fields for the orphans. 40 acres with church and food ware­hous­es of to the right.




BUSH

BUNNY

TIDBIT



All of us, includ­ing Social Ser­vices, expect­ed the triplet fam­i­ly from last week's blog to show up on Thurs­day, 28th, for weigh-in. This is when they receive more milk for­mu­la. They have yet to come (2 days late), caus­ing all of us con­cern. Nev­er good news when this hap­pens. I will keep you updat­ed once I know what has hap­pened.



PRAYER

OPENS

SPIRITUAL

DOORS

SO

THE

ANGELS

CAN

DO

THEIR

WORK

.

KEEP

THEM

FLOWING

HEAVENWARD

AS

WE

FACE

THE

CHALLENGES

OF

2021.



BLESSINGS

,


BUSH

BUNNY

BRENDA

LANGE




AND

THE

BALAMA

STAFF